In Belarus, determined the compensation for the scandalous return of the aircraft to Kiev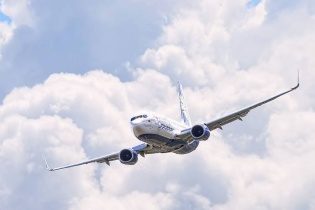 In Belarus, determined the compensation for the scandalous return of the aircraft to Kiev
© Belavia
Ukraine threatened to raise the fighters if the aircraft does not return to "Zhulyany".
Belarus has decided on the compensation for the return to Kiev airport "Zhulyany" Board "Belavia" carrying out on 21 October, the flight B2-840.
This was announced by Deputy Director General for marketing and foreign economic activities of Belavia Igor Cherginets, BelTA has learned.
"Apart from our airline, the problem was closely involved in the foreign Ministry of Belarus. By "Belavia" all necessary conditions are met, agreed the amount of compensation for the return side, it is, incidentally, slightly reduced compared to the original. The issue is being worked on and hopefully will be solved", – said Igor Cherginets.
According to him, consultations with UkSATSE is still ongoing, and the company expects settlement of the situation with the Ukrainian side.
Charhinets did not name concrete terms, when the Ukrainian side will be paid the amount of damages.
See also: Belarusian newspaper published requirements of the Ukrainian dispatchers to return the plane "Belavia" in Kiev
We will remind that on 21 October, the aircraft "Boeing 737-800" of the Belarusian airline "Belavia" carrying out flight on a route "Zhulyany" – Minsk, has returned to airport of departure at the request of the Ukrainian side.
At 15.25 a plane with 136 passengers and 6 crew members took off from the airport "Zhulyany". After 10 minutes, for 50 km to entering the airspace of Belarus, the commander of the aircraft received instructions from the air traffic controller of the district center of "Kyiv" on an immediate return to the "Zhulyany". In the event of failure of the team promised to raise fighters, according to "Belavia".
The aircraft returned to Kiev airport. After landing with the aircraft of the Ukrainian police shot a man who was a citizen of Armenia. After refueling in 16.37, the aircraft again flew back to Minsk, and safely landed there.
In "Belavia" note that Ukrainian law enforcement officers released the detainee, and he on the same day at 19.00 flew to Belarus.
The Ministry of foreign Affairs of the Republic of Belarus presented the Ukrainian Ambassador Valery Dzhigun a note of protest in connection with the actions of the competent authorities of Ukraine concerning forced return to Kiev aircraft of the Belarusian airline "Belavia".
Comments
comments