Military under Mariupol fired at unprecedented Marines shells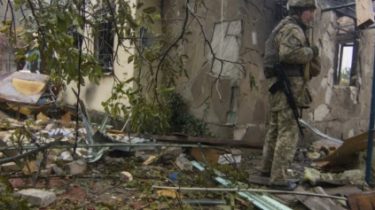 Military under Mariupol fired at unprecedented Marines shells
© UNIAN
Defenders of Ukraine said that in two years of war with the meet for the first time.
The Ukrainian military in the southern sector of the front in the Donbas ATO are moving away from hours-long clashes with the enemy that killed their sister and two others were injured. One of them is in very serious condition, but doctors hope that it will be able to save, says the story TSN.19:30.
During the battle, the parties separated a few hundred meters distance to a shot RPG high-explosive shells. The wind storm that just before the soldiers were praised for obstructing the work of the enemy artillery, this time played on the side of the enemy – the whistling wind was heard the sounds of battle. Therefore, for the participants in the battle encounter with the enemy was a surprise, and help came late. Besides, the militants from the rear has opened chaotic fire from mortars, to prevent the advance of Ukrainian soldiers. Therefore, the injured fellow was dragged from the battlefield for a long time.
In the Donetsk region occurred many hours of battle the Ukrainian military and militants
TSN. 19:30
Yesterday, 21:23
Add to favourites
The battle took place near the villages of Sahanka and Water in the Donetsk region. There, the Ukrainian military suffered losses. One soldier was killed and two were wounded. Through heavy fire fellow could not evacuate the men. Only under the cover of two neighboring reference points, managed to pick them up. One soldier in serious condition, but doctors give hope for life.
The main strike force in close proximity to Water and Shirokino, the enemy is concentrating in Sakhanki. Artillery usually rolls out on in advance prepared positions, shoots the ammunition and fades away in the rear. The recon Marines shows that all these actions of Russian military personnel, and carry out orders, the men in black uniforms, a red flag with a Panther. They shelled the Ukrainians and hitherto unseen marine shells: lighting-explosive that is buried in the ground, and then fired like fireworks. What is this bomb – the Ukrainian military on a front line have no idea because you encounter them for the first time.
As previously reported, the epicenter of the fighting is the direction of Donetsk. In the Water the Pro-Russian mercenaries dragged the military in the three-hour battle, during which killed the defender of Ukraine. On Sunday, terrorists fired from the plant "Partisan", which is equipped with missiles "Grad". And Marinka, Taramchuk and Shirokino fired from grenade launchers and mortars.
The correspondent TSN Alexander Motor
Comments
comments