The official of the migration service demanded from the foreigner a bribe and threatened with deportation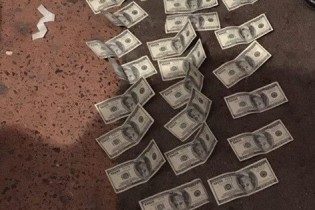 The official of the migration service demanded from the foreigner a bribe and threatened with deportation
© Kyiv Prosecutor's office
The woman demanded almost three thousand dollars.
In Kiev, an official in the migration service got burned on a bribe in 2 $ 800.
Reports a press about it-service of Prosecutor's office of Kyiv.
In particular, the woman demanded from the foreigner a bribe for not bringing to administrative responsibility for violation of rules of stay on the territory of Ukraine and further registration of temporary residence permit.
In the case of non-payment of these funds, she threatened alien with deportation.
Now the woman prepared the notice and the petition in court about election of a measure of restraint and removal from office.
The woman works as the Deputy chief of Department for prevention of illegal migration, readmission and expulsion Department of the State migration service of Ukraine in Kiev region.
See photos: Hollywood in the Poltava region locked in the car the raiders on foreigners threatened the cops with a grenade
Recall that in Kiev unknown in balaclavas kidnapped a foreigner and tied him to a radiator in a rented apartment. According to the alien attackers, threatening with a knife and struck with a blunt object on the head, took his gold ring, 12 thousand UAH, a Bank card and mobile phones, and car keys Renault blue and disappeared.
Comments
comments