A large-scale accident in Kiev: from the powerful blow of a car has become a pile of scrap metal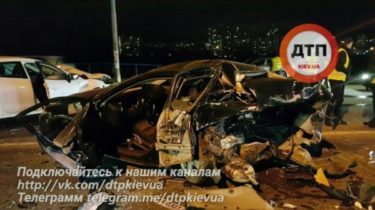 A large-scale accident in Kiev: from the powerful blow of a car has become a pile of scrap metal
Kiev
Today, 08:44
1 of 8

© facebook.com/dtp.kiev.ua

1 of 8

© facebook.com/dtp.kiev.ua

1 of 8

© facebook.com/dtp.kiev.ua

1 of 8

© facebook.com/dtp.kiev.ua

1 of 8

© facebook.com/dtp.kiev.ua

1 of 8

© facebook.com/dtp.kiev.ua

1 of 8

© facebook.com/dtp.kiev.ua

1 of 8

© facebook.com/dtp.kiev.ua
© facebook.com/dtp.kiev.ua

© facebook.com/dtp.kiev.ua

© facebook.com/dtp.kiev.ua

© facebook.com/dtp.kiev.ua

© facebook.com/dtp.kiev.ua

© facebook.com/dtp.kiev.ua

© facebook.com/dtp.kiev.ua

© facebook.com/dtp.kiev.ua
On the Boulevard are unable to miss two "Mazda", which caught a third car.
In Kiev later on Friday evening, November 25, occurred a large road accident with victims on the Boulevard of Friendship of peoples.
About this on his page in Facebook reports dtp.kiev.ua.
"The driver stopped to remove debris from the road, it burst into a drunk (?) the driver of the Mazda, which is unwound and hit the van," the message reads.
As noted, the accident injured two people. According to eyewitnesses, at the scene worked firefighters.
We will remind, earlier in Kiev trolleybus driver staged an accident and downed wires, crossing the double solid. To maneuver the driver disconnected the rod from the power supply line.
Comments
comments