In Donetsk lost the crew of the Russian TV channel "Rain"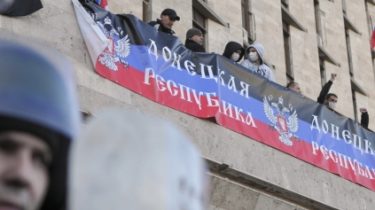 In Donetsk lost the crew of the Russian TV channel "Rain"
Illustration© Reuters
Journalists could be detained for "preventive conversations".
The correspondent of the Russian "Rain" Sergey Argentov and Vasily Polonsky stopped communicating in Donetsk on Friday, November 25.
This writes the Rain.
Before the disappearance of the Polonsky managed to inform the editors that the film crew is arrested, "the Ministry of state security of the self-proclaimed Donetsk people's Republic". But on the "hot line" reported that on Friday, the arrests, the Agency did not produce.
On the territory of "DNR" the journalists were planning to shoot a series of stories for broadcast and website channel. They recorded interviews with "former Secretary of security Council of DNR" Alexander Khodakovsky.
Khodakovsky said that "the idea that journalists are detained for preventive conversations, because the press Secretary ("the Prime Minister DND Alexander" – ed) Zakharchenko has exceeded its authority and gave the accreditation to the journalists of "Rain" without the knowledge of the wise". She Alena Alekseeva, the assistant to the militants Zakharchenko said that he did not know about the detention of journalists.
Later the source in the "self-proclaimed government "DPR" told RIA Novosti that the crew of TV channel "Rain", which stopped communicating in the Donbass, all right.
See also: In Minsk the rebels made a compromise proposal to release the hostages – Gerashchenko
We will remind that earlier the militants "DNR", which in the afternoon of 16 June 2016, grabbed the journalist of the Russian "Novaya Gazeta" Pavel Kanigin, beaten and accused of cooperation with the Ukrainian media.
According to kanygina, he was seized in the center of Donetsk, when he met with the representative of the "Ministry of information DND" Tatyana.
Comments
comments