"Legitimate" again made itself felt: how social media reacted to Yanukovych's speech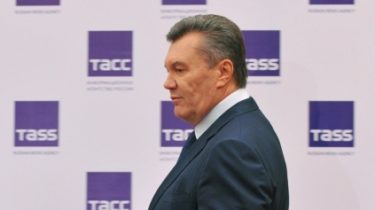 "Legitimate" again made itself felt: how social media reacted to Yanukovych's speech
© Reuters
Another statement by the ex-President became the subject of ridicule for users.
Stripped of the title of President of Ukraine Viktor Yanukovych gave a press conference in Rostov. He told how he had asked President Vladimir Putin to send troops into Ukraine, and called Russian mercenaries in the Donbas as "volunteers" and called his biggest mistake that did not give orders to the army to disperse the Euromaidan.
In addition, he told horror stories about "8 Crimean buses that burned radicals", and his numerous assets that were taken out from Mezhyhirya, Yanukovych called hand Luggage.
Users of social networks reacted to the statement "legitimate."
See also: a Typical Russian show. As Ukrainian politicians and bloggers reacted to the questioning of Yanukovych
The legitimacy зашкаливаетhttps://t.co/TE2AG9uV1W pic.twitter.com/ljruKZ9vvX
— Lentic (@oldLentach) 25 Nov 2016
VIN duzhe Galco scho not www viscovi mill I don't have sinking crew independence. VI will nd further zahlamlenie stroke Novin co statow? Bastard…
— Pavlo Rozenko (@RozenkoPavlo) 25 Nov 2016
Yanukovych: "to Answer the question?" Guzman:" You have already answered." Yanukovych: "I already answered"
— Nataliya Vasilyeva (@NatVasilyevaAP) 25 Nov 2016
Yanukovych zradnik Ukraine. Tupy I nemozhlyvo primtive. So I can salesasia in history.
— Andriy Teteruk (@a_teteruk) 25 Nov 2016
Rostov
Broke Buratino and Malvina,
Leg Piero was lying on the dressing table.
But got crap out of mothballs.
A huge shit.
— Vitaly Portnikov (@portnikov) 25 Nov 2016
Nifiga hand Luggage, Viktor Yanukovych.
— Mustafa Nayyem (@mefimus) 25 Nov 2016
A short retelling of a press conference Yanukovych: Engels, baggage, the train of friendship from Moscow #Yanukovych
— Kristina Berdynskykh (@berdynskykh_k) 25 Nov 2016
At his press conference, Yanukovych justified "berkutovets"
TSN. 19:30
Today, 20:00
Add to favourites
conference of Victor Yanukovych began half an hour late and just ended (ongoing). On it the President of the fugitive dodged the question whether he plans to return to Ukraine. Quoting Engels, Yanukovych called "Berkut" suspected in the shooting of people on Maidan, innocent. He promised another press conference – 28 November, once all will be to testify in court and refused to reveal what to talk about.
Comments
comments