In Europe there is a threat of a new arms race – Steinmeier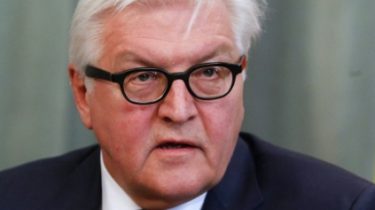 In Europe there is a threat of a new arms race – Steinmeier
© Reuters
According to the Minister of foreign Affairs of Germany, "war and peace returned to the continent.
The Russian aggression against Ukraine brought back "war and peace" on the European continent.
He declared it in interview to the newspaper Die Welt.
"Security in Europe is under threat," said Steinmeier.
According to him, after the annexation by Russia of Crimea and the unresolved conflict in the East of Ukraine "issues of war and peace has returned to our continent" and threatened a new arms race".
Steinmeier also assured that he stands "with many other European foreign Ministers for restarting arms control" as it is "a reliable means of transparency, risk avoidance and confidence building".
"We urge all countries that are responsible for the security of Europe, to support this initiative and join the dialogue on arms control", – said the head of the German foreign Ministry.
Earlier, the third Committee GGeneral Assembly, the UN approved a Ukrainian resolution on human rights in the occupied Crimea. Voted for the resolution, 73 countries, with 76 abstentions, 23 were against, the latter include Russia and Belarus. The resolution reaffirms the territorial integrity of Ukraine, non-recognition of the annexation of Crimea, urges Russia to provide unhindered access to monitor the situation with human rights in the occupied Peninsula. For the first time in documents of the UN, called Russia a country-occupier, Autonomous Republic of Crimea and Sevastopol temporarily occupied territory.
Comments
comments