In Kiev in a dumpster found the body of slaughtered men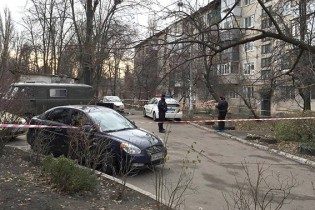 In Kiev in a dumpster found the body of slaughtered men
© State of National police of Ukraine in Kiev
The police for several hours revealed a horrible murder.
In Kyiv on Saturday, 26 November morning in a dumpster found the body of a man.
This was reported in the capital Department of communication of the police.
"Information about the body in a dumpster came in Svyatoshinsky police Department this morning", – stated in the message.
According to the preliminary conclusion of the forensic scientist, the death of the man was caused by multiple stab wounds.
See also: Cherkasy fishermen found in the river flooded the SUV with the dead people
The police have established the identity of the victim, who was a resident of Kiev born in 1983, and after a few hours uncovered a brutal murder and detained the suspect – 30-year-old woman, who lived nearby.
As it turned out, between the dead and the suspect long had hostile relations.
"This time it ended tragically: in his apartment she stabbed him multiple stab wounds and dumped the body in a dumpster," added the police.
Currently, the woman was detained, it is located in the svyatoshynskyi police Department, with her talking to investigators. Law enforcement officers establish all the circumstances of the murder. For what he did to the woman threatens till 15 years of imprisonment.
We will remind, earlier in Kiev on the Obolon in own apartment stabbed a local resident. Tenants were going to blow up the apartment to cover up the traces.
Comments
comments