The Prosecutor explained why Yanukovych during the interrogation, has the status of a witness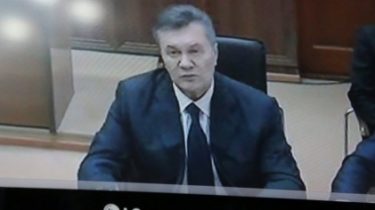 The Prosecutor explained why Yanukovych during the interrogation, has the status of a witness
© UNIAN
Also the Prosecutor of GPU told to whom unfavorable questioning Yanukovych.
Deprived of the title of President of Ukraine Viktor Yanukovych has dual status in the case of crimes against the Maidan – the witness and the suspect.
This was stated by the Prosecutor of GPU Alexey Donskoy after the meeting in the Svyatoshinsky district court of Kiev, reported in Department of public relations and mass media of the Prosecutor General of Ukraine.
"Criminal proceedings against Viktor Yanukovych to send to the court together with the suspected Berkut was not possible because he was hiding from the investigation. To date it is not known where in fact he is hiding, and the fact of his single appearance in a Russian court does not allow to establish the place of its constant stay. From performing procedural duties suspect he evades. Therefore, the case against Yanukovych has been allocated in separate criminal proceedings. Accordingly, in the criminal proceedings Yanukovych has the status of a suspect, and in manufacturing, which is now considered in the Svyatoshinsky district court of Kiev, if he is interrogated, testifying as a witness", – explained he.
According to Donskoy, in accordance with the procedural aspect, people may not reply twice in different criminal proceedings for the same acts.
"Therefore, Yanukovych is a suspect in criminal proceedings, which is being investigated against him and the proceedings against the employees of the Golden Eagle, which is considered in court – he has the procedural status of a witness", – said the Prosecutor.
Donskoy also said that the failure of the questioning Yanukovych's absolutely not in the interests of the Prosecutor's office
"Full-fledged interrogation, in our opinion, of interest to the prosecution; defective, ragged – an interesting side of protection," he said, noting that during interrogation, must be a full procedural act which does not end after Yanukovych say my speech, and the prosecution will begin to put specific uncomfortable questions on a refutation of his position.
We will remind, on Friday, November 25, held the hearing in the case of execution of participants of Euromaidan, the witness of which is held by Viktor Yanukovych. However, about 30 activists with flags "Right sector" and the "Free people" blocked the departure of the accused Berkut officers from prison. They held in hand posters with inscriptions "the Killers of hundreds of Heaven in jail", "Blood of the Heavenly hundred on your hands" and "Killer jail."
Comments
comments