Avakov called the Kiev events around questioning Yanukovych's scenario of the Kremlin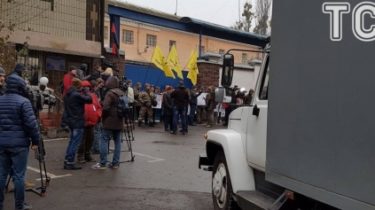 Avakov called the Kiev events around questioning Yanukovych's scenario of the Kremlin
© Photo by Ivan Grebenyuk/TSN
Law enforcement officers swear not to touch the protesters, or the provocation would be successful.
A quarrel of lawyers and prosecutors ended the story of the migration of interrogation policies-the fugitive Victor Yanukovych in the Ukrainian court. The legal action was moved to Monday due to the inability to deliver in the room of the accused ex-police officers, says the story TSN.19:30.
Near Lukyanovka jail staged a blockade activists. But the lawyers accused prosecutors that the prosecution just doesn't want to bring people to court. They say, if you want a bunch of protesters just broke up. "Pure sabotage. How can you judge when defendants deliberately not brought to the courtroom? This information is checked. They were not even prepared for delivery to the court. Other paddy wagons left, our clients were not even raised," – says the lawyer Stefan Reshko.
Questioning Yanukovych via Skype was moved to Monday
TSN. 19:30
25 November, 19:58
Add to favourites
In the Svyatoshinsky court of Kiev today saw and even heard of Yanukovych. Communication Skype with former President Viktor Yanukovych worked well. But to interview the fugitive the prosecutors failed – the meeting was moved to Monday.
Prosecutors say they are not interested in procrastination, because they want to ask a few dozen questions to Yanukovych. "The failure of the questioning did not in the interest of the prosecution, as we are well aware that Yanukovych may find much more comfortable the audience, to illuminate where their political theses", – said the representative of the Prosecutor General of Ukraine Oleksiy Donskoy. The interior Ministry added that the use of force against the protesters will not matter. "In any case, we will not be provoked, the script of which was written outside of our country – in the Kremlin. The people who now run our ex-President," – said the Director of the communications Department of the Ministry Artem Shevchenko.
Previously stripped of the title of President of Ukraine Viktor Yanukovych commented on the transfer of his interrogation in the case of Euromaidan. "Well, you heard my words. I am outraged by what happened. One question here: who benefits? Today we learned that "Right sector" radicals again on the principle of independence work outside the Ukrainian laws. The government approves" – said a former politician. Meanwhile, about a hundred activists who today blocked the exits from the Lukyanovka jail in Kiev, separated from the action. So I decided after Sviatoshynskyi court postponed the hearing on the case of five ex-Berkut officers, who are accused of the shootings on the Maidan.
The correspondent TSN Alexander Country
Comments
comments