"Black Friday" in Ukrainian. The lawyer told how to shop a real 50% discount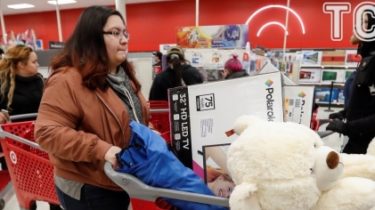 "Black Friday" in Ukrainian. The lawyer told how to shop a real 50% discount
© Reuters
The Ukrainian sellers, there are many tricks how to sell promotional merchandise at a high price.
"Black Friday" in Ukraine is becoming increasingly popular, both receiving a lot of criticism from consumers.
After all, it often happens that before the period of the discount stores first, raise the price 20%, then to draw a discount at the same percentage.
Also frequent are cases when shop Windows lure is "Minus 50%", but when you go to the store, it turns out that in fact the prices are reduced up to a maximum of 20-30%, and half the price if cut, only the most expensive or unattractive product.
See photos: crazy crowd and a lot of shopping. As the US goes Black Friday
Lawyer Anton Kutz told the correspondent of TSN.Week Natalia Yarmolathat in this case, the consumer has the right to demand a 50% discount that is stated on the window. And if the store refuses to sell the goods at the stated stock, you can buy it – proving his innocence in court.
Another trick sellers claim that lowest price for the product listed incorrectly, and if you want to buy it, then have to pay more.
"In this case, the consumer has the right to purchase at the price stated on the price list, regardless of internal documents, errors and the like. We can through the courts to go so far as to buy at the price that is specified for the consumer," said Anton Kuts.
More about fraud sellers, "Black Friday," see the issue TSN.Week at 19:30.

Black Friday in Kiev
TSN. 19:30
November 25, 21:59
Add to favourites
Large shopping centres and small stores to join the Day of the sale. "Black Friday" a large crowd in Kyiv was not mentioned. Five minutes before the opening of the shopping center at the entrance going in just a few dozen people. Visitors are surprised to my happiness. Stores announce discounts of up to 80% on clothes, cosmetics, shoes and even equipment, but in fact it is only some small part of the goods. Something even removed from the shelves.
Comments
comments