Food, cigarettes and $ 200. The two terrorists explained why he fought in the "DNR"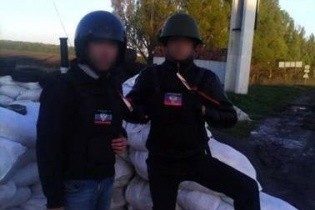 Food, cigarettes and $ 200. The two terrorists explained why he fought in the "DNR"
© State of NP in the Donetsky region
Most of the terrorists joined the rebels to earn money.
Employees of the police of the Donetsk region exposed six militants and their accomplices, who were terrorists, and then disappeared in the territory controlled by Ukraine.
Most of them joined the terrorists to earn money, reports the press service of the national police in the Donetsk region.
Among them there were those who wanted to fight "for the idea", but was disappointed and ran away.
According to the report, the age of the detainees – from 26 to 60 years. All of them have joined the rebels in 2014 and participated in the events that led to the occupation of the region.
See photos: SBU detained a. I. – off the militants, "DNR", who worked undercover
One of them was a drug addict mercenary with the call sign "Nazi", which was earlier judged for robberies. 32-year-old man was on duty at the checkpoint at the entrance of the Pokrovsk from Dnipropetrovsk – checked all vehicles that went to Donetsk region, "protected" an illegal referendum and participated in the capture of red army city Department of militia.
Later he had to leave in Slavyansk to participate in the fighting, but because of strong alcoholic intoxication and fear of being killed did not get to the train. Police found him in Minegarde, where he was hiding in a rented apartment.
Was also arrested 54-year-old mercenary nicknamed "the Deer", which at the checkpoint checked documents of citizens and transport.
Read also: In the area of anti-terrorist operation detained the informant "DNR", which was leaking data through social networks
"Come in "DNR" to make money. The terrorists promised every day to pay 200 dollars," explained the suspect.
However, the money he did not wait and came home and destroyed all the documents that he was given in "DNR".
Also exposed two citizens of Kramatorsk, at the age of 26 and 43 years in 2014, "served" at one checkpoint in the village of Oktyabrsky. They had to find and detain the citizens who did not support the idea of the so-called Republic "DNR". Subsequently, the 26-year-old mercenary with the Callsign "Chip" fled when he heard that the city will start fighting. He now admits his guilt and urged his former comrades to lay down their arms.
60-year-old resident of Konstantinovka agreed to work for the terrorists for the cost of food and cigarettes. He worked at the roadblock and carried out functions of the Adjuster.
Read also: In Kiev detained the businessman who financed the "LDNR"
Continues pre-trial investigation against 33-year-old man, who, moreover, was on duty at the checkpoint terrorists, and was involved in the seizure of ammunition and weapons from a military truck.
According to this fact opened criminal proceedings.
Earlier, prikordonniy Kramatorsk squad was detained in the Donetsk region representative of the so-called leadership "DND". During the inspection of the vehicle the border guards discovered among the personal belongings of men's identity "DNR, the city Administration of Donetsk."
Comments
comments