In the Village of Lugansk broke breeding troops from-for attacks of fighters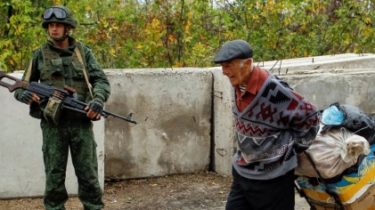 In the Village of Lugansk broke breeding troops from-for attacks of fighters
© Reuters
The separatists fired on the positions of AFU in the settlement.
In the Village of Lugansk broke the breeding of the parties to the conflict, which was scheduled for Saturday, November 26.
About it on air of TV channel "112 Ukraine" said the representative of Ukraine in the Joint center for control and coordination of ceasefire Borys Kremenetsky.
According to him, the Ukrainian side was ready to withdraw on September 21, when I first agreed to the dilution of energy and resources. However, from 21 September to 24 November, the militants have committed 58 attacks on the AFU positions at Stanitsa Luganskaya, including from the mortar.
Read also: In Luhansk, wounded one Ukrainian soldier, militant attacks continue
Kremenetsky said that since November 18 near the village was quiet and there were no attacks was not. But it did not last long.
"We were ready today to take units of the APU, but the day before yesterday 20:30 to 22:55 was made of three fire stations with automatic grenade launchers, a 32-mm guns BMP-2, RPGs and small arms. That is why today, once again, from the astronomical clock was disrupted the breeding of forces and means", – he informed.
See also: Breeding forces near the village of Lugansk was not held
We will remind, on October 13 breeding forces in the Village of Lugansk finally snapped. On the eve on the presidential level, it was determined to begin withdrawal at 10:00 am. However, the militants shelled the military and so flagrantly violated the terms of the breeding effort. On the framework agreement on the breeding of the parties, at the site where it should occur, must be maintained to silent mode during the week. But the terrorists not only at night but at 9 am, after the opening of KPVV, fired two grenades.
At the next meeting of the contact group in Minsk will hear representatives of the "DLNR"
TSN. 19:30
23 Nov, 21:22
Add to favourites
It will take place on 7 December. This was reported by the OSCE special representative Martin Zaydik. He also noted that he hoped the breeding forces in the Village of Lugansk in the near future. The Ukrainian side said it is ready to perform their part of the agreement on November 26, but only under the condition that the militants will respect the silence.
Comments
comments