Military laugh with "humanitarian convoy" Russia: shelled baby clothes and Essentials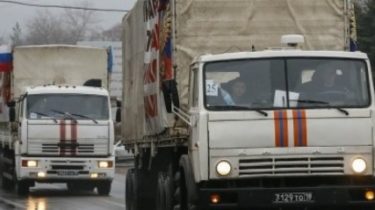 Military laugh with "humanitarian convoy" Russia: shelled baby clothes and Essentials
© Reuters
Soldiers in Marinka keep the defense in very difficult conditions.
On the outskirts of Marinka froze Mirana life, because they sweep through and move between the houses to be very careful. In fact, the homes of those walls that had survived the attacks, can be called very conditional, says the story TSN.19:30.
In another way, as dashes, the military have not moved. Their positions are reinforced with several layers of sacks of earth, is definitely hidden with a camouflage net, but this does not protect from the activity of the enemy, which is located a few hundred meters. "When the darkness starts to fly above us iron. Basically, infantry, artillery," says Mat soldier with the Callsign "Samodelkin". According to him, in recent years more contact fighting, however, and the shrapnel from the explosion arrive at the position regularly. The soldiers joke that another "humanitarian convoy" from Russia immediately affects increasing attacks. "Can children's things to come, the Essentials – what you want" – the irony of the military.
Contact fighting and the movement rushes: military told about the situation in Marinka
TSN. 19:30
Yesterday, 20:34
Add to favourites
On the houses of Marinka difficult to find surviving wall. As a rule, in the far streets of the village almost nobody lives, because now they are one of the hottest spots of the ATO zone. There is almost daily contact tie fights. In another way, as dashes, the military here does not move. Each position is surely strengthened by several layers of sacks of earth, have a scrim, so that the enemy did not see the movement of our military.
They say that this silence in Marinka came only once, when the town stopped by international observers. "The OSCE came. It was quiet for a couple of days and then started again. Snipers – worked today, figured it. A couple of shots and making runs," said APU fighter with the Callsign "weaver". He is only 22 and he had already served the allotted, and then signed the contract. Differently said, do not see how to ensure a peaceful future. "Home son, 5 months. It is necessary to protect all," explains the soldier.
As reported in Marinka, Donetsk region, a man was blown up on the banner right at home. With shrapnel wounds, he was taken to the hospital.
The TSN reporter Eugene Zvecanska
Comments
comments