Ukrainian military eliminated two DRGs under Mariupol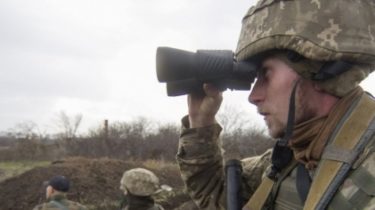 Ukrainian military eliminated two DRGs under Mariupol
© UNIAN
The enemy made several attempts to attack the positions of the Marines after the artillery barrage.
In the South of Donetsk region, the invaders intensified shelling of positions of defenders of Ukraine. The Marines had withstood attacks from heavy artillery and mortars, according to a story TSN.19:30.
Murderous iron fell around Shirokino in the Water, near Talakovka, Gnutovo and opposite the occupied Kominternovo. "Worked their art and their drones. Mortars cover last night and this morning," said marine corps fighter with the Callsign "Rice". Firing rocket-propelled grenades and machine guns the soldiers have not even considered. "Previously, worked only 82 m, now only 120-m 152-m. There are rumors that went the soldiers, and they would be here as trained," adds his sister with a call sign "Beard".
Fighters in the Azov sea for a few minutes before the invasion said the Ukrainian army offensive
TSN. 19:30
Yesterday, 19:54
Add to favourites
Since the morning at Azov was not a single hint of output. Four 120-x mines the evening and more than half a dozen 122-x, artillery and only came Saturday morning, and that's not counting grenades with machine guns. Why now the militants had a nervous fever, the Marines just guessing. Their opinion could be acceptable, if not for one thing: for a few minutes before the invasion the leaders of the militants announced the attack of the Ukrainian army.
"The fire was coming from the direction Sahanki, Kominternovo", – approves a press-the officer of sector of "Mariupol", Alexander Kindsfater. From the same fit and saboteurs. First uninvited guests were two, and after a few hours with the other flank under cover of mortars crawled another six. With them was a strong exchange of fire. As a consequence, their positions were able to return to all the participants in the DRG. Among the Ukrainian military losses was not.
But the leaders of the militants announced that this is supposedly their positions were attacked by a company of soldiers APU. And, they say, the cannonade on the sea of Azov is a response to the attempted attack Ukrainians. Such statements are Marines pretty amused. Men say they would be happy, but without order do not have the right to carry out the assault actions, so constantly remain in their positions.
The correspondent TSN Alexander Motor
Comments
comments