Yanukovych explained why you don't sign the agreement on Association with EU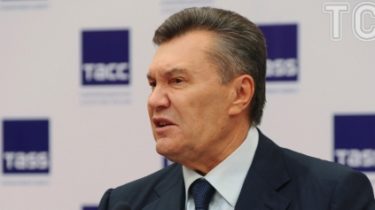 Yanukovych explained why you don't sign the agreement on Association with EU
© Reuters
They say that relations with Europe would be unprofitable for Ukraine.
Stripped of the title of President of Ukraine Viktor Yanukovych has explained, why has not signed the document on Association with the EU.
About it I there was a speech during his press conference in Russia.
Policies-the escapist said that it was not about the Association agreement with the EU, and the document on free trade zone. According to Yanukovych, this would have resulted in significant losses for the Ukrainian economy, including heavy industry. He announced $ 200 billion dollars, however, did not elaborate on what an unprofitable period in question. They say that Europe was not ready to allocate such an impressive money.
He noted that he wanted to return to the discussion of this issue in March 2014.
Yanukovych said that the Ukrainian people are just misinformed in this matter.
Read also: Yanukovych told about "candy" from Europe on a budget "nightstand" and "poor" Eagle on Euromaidan
Recall, November 21, 2013 by order of the Cabinet was officially suspended the European integration of Ukraine.
Comments
comments