"You do not deserve". Yanukovych rude spoke with a Ukrainian journalist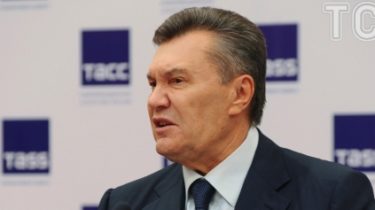 "You do not deserve". Yanukovych rude spoke with a Ukrainian journalist
© Reuters
The fugitive uncivil behaved in front of media.
Stripped of the title of President of Ukraine Viktor Yanukovych during a press conference roughly answered the question of Ukrainian journalists.
Ukrainian reporter LUN'kova Elena asked the fugitive that, in his opinion, write about it in the history books.
A former politician, in turn, said that he had experienced a lot of offense, and rudely asked the journalist.
Read also: Yanukovych spoke to reporters. Talking about the fugitive
"We know your masters and know how they treat you… You are not worthy to you so I spent a lot of time," he said.
We will remind, the President of the fugitive Viktor Yanukovych speaks to reporters after the postponement of the trial in the case of Euromaidan, in which he is a witness.
The questioning will take place on Monday, November 28. Time – 13:00 Kyiv time. This decision was made in connection with the failure to deliver from prison the accused. Their departure was blocked by the protesters. Yanukovych tried to make a political statement, but it is forbidden to do a Kyiv judge. However, the President-the fugitive said that needs to deliver indictees to the meeting. He also agreed to attend a meeting on November 28.
Comments
comments