Yanukovych has called his major error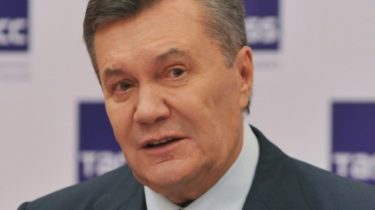 Yanukovych has called his major error
© Reuters
The fugitive is sorry that did not apply to troops during the Maidan.
At the press-conference in the Russian city of Rostov-on-don, devoid of all public statuses, the fugitive Viktor Yanukovych has called his biggest mistake of the Revolution of Dignity. Answering the question of Ukrainian journalist on how he could have made at a strictly vertical line of power, the bloodshed in a few meters from the presidential Administration, wanted for crimes, the former official said that recognize their error.
However, the most significant by its omission he considers the massacre of the people in the center of Kiev, and the lack of courage to apply for a dispersal of Euromaidan army. "The biggest mistake is not able to sign the order for the invasion and the Declaration of martial law in Ukraine", – said Yanukovych. Despite the death of the Heavenly Hundred, he is sure that his conscience is clear. "I did not go to the bloodshed", – said the former owner of the AP.
Earlier, Yanukovych called the cause of the separation of Donbass from Ukraine. "I have said repeatedly my point of view. I was initially against, to violate the territorial integrity of Ukraine. The separation of Donbass from Ukraine – the emotional rush of people who reacted to the events in Kiev", – said the fugitive.
The police and riot police with dogs: around the court in Rostov enhanced security measures
TSN. 16:45
25 November, 17:30
Add to favourites
To see the President of the fugitive firsthand we could not – on the way to the Rostov regional court could only see the tail of the motorcade, likely imported to the construction of Viktor Yanukovych for an hour before questioning. Around facilities – enhanced security measures, the police on duty at every street corner.
Comments
comments