Badly wounded marine he remembered the time when he came to the brink of death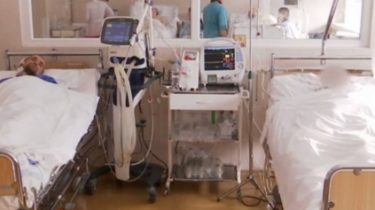 Badly wounded marine he remembered the time when he came to the brink of death
The military said about his injury.
Six wounded soldiers over the weekend, was taken to the regional hospital named after Mechnikov in the river. Four of them in critical condition, according to a story TSN.16:45.
The victims received minno-explosive and ognestrela injured in the Donetsk region near the Town of Shirokino and Pavlopol. Two soldiers were operated on and their condition has improved. Most concerns doctors is causing a 30-year-old marine Alexei, whose body is full of shrapnel after explosion of a land mine. He lost about two liters of blood, surgeons in Mariupol had to amputate the soldier's leg. "He ripped the bomb, in fact, the entire body. Not living space. Head, neck, chest, spine all hit by shrapnel," – said the chief doctor Sergei Ryzhenko.
Over the weekend in the hospital of Dnieper brought 6 of them with mine-blast and gunshot wounds
TSN. 16:45
Today, 17:17
Add to favourites
4 military in a critical condition. The two militaries have operated on, they get better, doctors say. In serious condition, 30-year-old Alex. Due to the explosion of a land mine, his body full of shrapnel, lost about two liters of blood. Medics in Mariupol had to amputate the soldier's leg. Alex has recovered.
Alex had been told that he was behind the wheel of a Ural, which brought the twin cities food and shoes. Right at the time of discharge suddenly exploded enemy land mine. "Flew into my driver's side had more. Blown away. I think that will be okay, it happens to everyone. What can you do? It's a war," bravely kept the wounded.
At the end of last week in Marinka Donetsk region , a man hit a trip wire in the house. With shrapnel wounds, he was taken to the hospital.
Comments
comments