The military said that the forces ATO under Mariupol confront Russian soldiers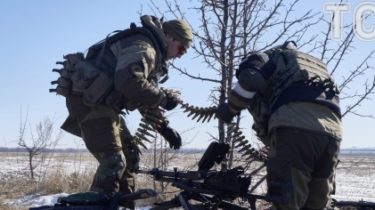 The military said that the forces ATO under Mariupol confront Russian soldiers
© Getty Images
The men examined the weapons, the style and all the nuances of behavior of Russians and separatists.
The military on the front line under Mariupol do not regret their choice to defend their homeland and continue daily to hold the position under the attacks of the enemy. The actions of the enemy they have learned to notice when dealing with home-grown terrorists, and when against them the qualified staff of the army of the neighboring country, according to a story TSN.19:30.
In his spare time fights the soldiers with picks, shovels and crowbars into the ground. "Try to build a life. Own produced material, sawing trees, carrying while you can," says Mat soldier with the call sign "Buster". The soldiers say that already pereehali tons of chopped wood, and the hands are from hard work do not go corn.
War zero these still very young, but already grated soldiers, was not like that. Romance it gives damp of the trenches and the smell of gunpowder, but none of these warriors does not regret that was on the front line. "I'm in the army wanted for a long time, and then it happened in the state went to protect their land. Had not taken", – said "Serbian". Your enemy guys are already well studied. Military believe that now are opposed by human forces of the Russian Federation. "Basically, the regular army professionals. They do not approach closer than 150 meters," – said "Ramses".
As previously reported, on the eve of Sunday, the militants fired 27 times Ukrainian military positions along the demarcation line in the ATO area. On the Mariupol direction, the terrorists used a 122 mm artillery, mortars of various calibers, grenade launchers and small arms for shelling Talakovka, Novotroitsk, Shirokino, Steppe, Marinka, Gotovogo and Pavlopol. On Novotroitsk twice fired by a sniper.
The TSN reporter Ruslan Yarmolyuk
Comments
comments