Lutsenko promises that in the near future the suspicion that Yanukovych will grow into the indictment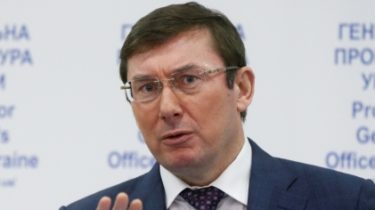 Lutsenko promises that in the near future the suspicion that Yanukovych will grow into the indictment
© Reuters
The Prosecutor said that the suspicion consists of more than 20 pages.
Prosecutor General Yury Lutsenko promised that in the near future suspected of treason ex-President Viktor Yanukovych will grow into the indictment.
He reported about it to journalists, transfers Interfax.
"Now pass the corresponding examinations in the near future, the suspicion will grow in the indictment", – Lutsenko told.
The attorney General also said that the suspected ex-President consists of more than 20 pages.
"The content of the suspicion in accordance with the requirements of the code of criminal procedure a citizen Yanukovych explained. It boils down to is that Yanukovych, in the territory of the Russian Federation, 1 March 2014, signed a letter addressed to Russian President Vladimir Putin, urging the Russian President to enter into the territory of Ukraine the occupation troops of the Russian Federation", – he said.
According to Lutsenko, this fact Yanukovych confirmed in his last press conference on Friday, November 25.
See also: Second attempt to depose Yanukovych. A text stream
We will remind, on November 28, in the premises of Sviatoshynsky court on direct communication with the Rostov court, which is now Viktor Yanukovych, L, Usenko declared suspected of treason ex-President.
Yak Lutsenko said, in a different way to declare a suspicion did not, as Yanukovych is abroad and is not on the challenges of the Prosecutor's office. Suspicion also gave the lawyers of the former President, located in the svyatoshynskyi court and sent to "all known addresses in Russia."
November 25, held a hearing on the case of execution of participants of Bromide, a witness which is held by Viktor Yanukovych. However, about 30 activists with flags "Right sector" and the "Free people" blocked the departure of the accused Berkut officers from prison. They held in hand posters with inscriptions "the Killers of hundreds of Heaven in jail", "Blood of the Heavenly hundred on your hands" and "Killer jail."
Comments
comments