Saakashvili gathered a rally in Central Kiev and called for new elections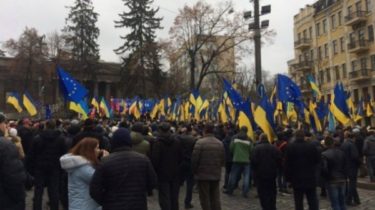 Saakashvili gathered a rally in Central Kiev and called for new elections
Policy
Yesterday, 15:07
1 of 4

The Meeting Saakashvili
© Ukrainian truth/Roman Kravets

1 of 4

The Meeting Saakashvili
© Ukrainian truth/Roman Kravets

1 of 4

The Meeting Saakashvili
© Ukrainian truth/Roman Kravets

1 of 4

The Meeting Saakashvili
© Ukrainian truth/Roman Kravets
The Meeting Saakashvili
© Ukrainian truth/Roman Kravets

The Meeting Saakashvili
© Ukrainian truth/Roman Kravets

The Meeting Saakashvili
© Ukrainian truth/Roman Kravets

The Meeting Saakashvili
© Ukrainian truth/Roman Kravets
Traffic on the street Grushevskogo blocked.
In the center of Kiev near the monument to Vyacheslav Chornovil is action "Movement new forces" at the initiative of the former head of the Odessa regional state administration of Mikheil Saakashvili.
Due to the rally on Grushevskogo blocked traffic. The action was attended by several thousand people, writes "Ukrainian truth". On stage in addition to Saakashvili were present eks-the Deputy head of the Odessa regional state administration Yulia Marushevska and former Chairman of the national Agency on civil service Denys Brodskyi.
See also: In the Parliament want to deprive Saakashvili of citizenship and extradite him to Georgia
Among those present many young people and pensioners. In the hands of the participants holding national flags and EU flags in the crowd can see the flags of the party "5.10".
The scene Saakashvili called the show a "red card" the Verkhovna Rada and hold new elections.
See also: Saakashvili has not fulfilled most of its promises – experts
The politician also said that the government is afraid of him and trying to get out of the country.
"Hate me because I know how to overcome corruption, how to undermine their house of cards. They fear me because I am not silent," he said.
Recall, November 7, Saakashvili announced his resignation. He stressed that President of Ukraine Petro Poroshenko does not adhere to their promises and the presidential Administration is promoting in place of heads of district administrations of the old corrupt. On November 11 he gathered in Kiev a press-conference and announced the creation of his party.
Experts called the possible causes and consequences of resignation of Mikheil Saakashvili
TSN. Week
13 Nov, 20:04
The ex-President of Georgia, who on may 15 was headed by Odessa regional administration, resigned, and for the first time in Ukraine openly accused the current President Petro Poroshenko and his entourage are in support of corruption. Why now and so suddenly decided to slam the door in recent friend of Petro Poroshenko version sound different.
Add to favourites
Comments
comments