Russia wants to place new complexes of space monitoring in the occupied Crimea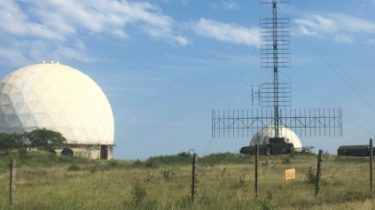 Russia wants to place new complexes of space monitoring in the occupied Crimea
© Reuters
With these complexes of the Russian Federation plans to monitor near-earth space.
In the coming years, Russia plans to place new complexes of the system of space monitoring in the occupied Crimea.
This was stated by Deputy commander of the space troops of Air and space forces (VKS) Russia test Colonel Andrey Ivashin, RBC.
According to him, it will be a network of specialized systems, electronic control and optical-electronic complexes of new generation. In addition to the Crimea, they will be deployed in the Altai region, in the far East and Buryatia.
Read also: Russia's defense Ministry has summoned a military attache of Ukraine due to missile firings in Crimea
The Ivashin noted that these systems are constructed on new element base that "allows many times to increase their combat capabilities in relation to the systems of the previous generations."
"With the commissioning of new complexes SCCP Russian space forces will be able to continuously monitor near-earth space in all moods and in the maximum altitude range," said a Russian military official.
Earlier it was reported that Russia is stepping up the militarization of the occupied Crimea, the Peninsula building new military bases and placing air defense system. The correspondent of Reuters Agency a week travelling around the Peninsula and only during this time there were 18 military facilities, including naval bases, radar stations and airfields. Some of them were brand new, others restored old objects or are in the process of recovery.
New bases and air defense on each Cape. Reuters wrote about the increasing forces of the Russian Federation in the Crimea
Policy
1 Nov, 19:15
1 of 15

© Reuters

1 of 15

A military airfield of the Russian Federation in Sochi
© Reuters

1 of 15

Military equipment of the Russian Federation in Sochi
© Reuters

1 of 15

Military helicopters of the Russian Federation in Sochi
© Reuters

1 of 15

Russian military equipment in Dzhankoj
© Reuters

1 of 15

Military facility of the Russian Federation, Feodosiya
© Reuters

1 of 15

Military facility of Russia in Sevastopol
© Reuters

1 of 15

Military facility of Russia in Sevastopol
© Reuters

1 of 15

Military base of Russia in Sevastopol
© Reuters

1 of 15

Military base of Russia in Sevastopol
© Reuters

1 of 15

Military base of Russia in Sevastopol
© Reuters

1 of 15

Military base of Russia in Sevastopol
© Reuters

1 of 15

, The Russian military base in Perevalnoye
© Reuters

1 of 15

, The Russian military base in Perevalnoye
© Reuters

1 of 15

, The Russian military base in Perevalnoye
© Reuters
© Reuters

A military airfield of the Russian Federation in Sochi
© Reuters

Military equipment of the Russian Federation in Sochi
© Reuters

Military helicopters of the Russian Federation in Sochi
© Reuters

Russian military equipment in Dzhankoj
© Reuters

Military facility of the Russian Federation, Feodosiya
© Reuters

Military facility of Russia in Sevastopol
© Reuters

Military facility of Russia in Sevastopol
© Reuters

Military base of Russia in Sevastopol
© Reuters

Military base of Russia in Sevastopol
© Reuters

Military base of Russia in Sevastopol
© Reuters

Military base of Russia in Sevastopol
© Reuters

, The Russian military base in Perevalnoye
© Reuters

, The Russian military base in Perevalnoye
© Reuters

, The Russian military base in Perevalnoye
© Reuters
Comments
comments