The case of a fire in a nursing home in the Kyiv region gave the court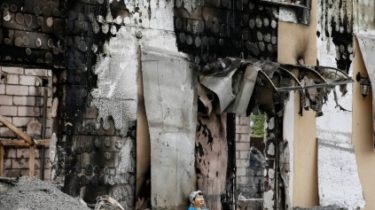 The case of a fire in a nursing home in the Kyiv region gave the court
© Reuters
The fire occurred on may 29 in the village of M in the Kyiv region.
The Prosecutor of the Kiev region sent to court the indictment in the death of 18 people as the result of a fire in a nursing home.
Reports a press about it-service of Prosecutor's office of area.
In particular, the Prosecutor's office completed pre-trial investigation and sent to court for consideration in essence the act.
"As a result of criminal arrogance and failure to observe the rules of fire safety 40-year-old suspect about 3 a.m. in a residential private house, which belongs to the suspect and was used as a boarding house for the elderly, there was a fire in which 18 people were killed and one person sustained injuries," – said the Prosecutor.
Actions accused qualified as a "violation of established by legislation requirements of fire safety", to it threatens imprisonment for the term from three up to eight years.
See also: In Kyiv region declared mourning for those killed in the fire at the nursing home
We will remind, in the night of Sunday, may 29, in the house in the village of M Brovary district, a fire happened. According to preliminary information, the cause of the fire was the ignition of the TV. Police have announced the arrest of the main suspect.
Later, Brovarsky district court released from custody the owner of the house for the elderly, which at the time of the fire killed 17 people. As it turned out, Oleg Dmitrenko released due to the fact that the court did not receive timely suspicion. At the same time it is noted that the petition for the detention of the owner of the house will be considered, but Dimitrenko would not be behind bars.
Brovarskyi court chose a measure of restraint to the owner of the burned-down shelter for the elderly
TSN. Wounds
1 Jun, 12:17
Add to favourites
Brovarsky district court ruled on the detention of Oleg Dmitrenko in jail for a period of 2 months. The meeting lasted more than eight hours, all the while the suspect was in the hall, as a free man. He was released from custody, as the investigation made procedural violations. The defendant insisted that no orphanage would be kept, simply rent rooms in their own house to sublease the relatives of the victims.
Comments
comments