In Kiev will close five stations and will open five new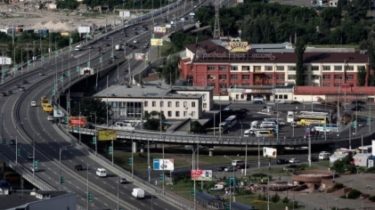 In Kiev will close five stations and will open five new
The Central "Bus station of Kiev" Demeevskaya (former Moscow) square, which is expected to close© UNIAN
The new bus station will appear on the outskirts of the capital.
For unloading of the streets of Kiev from transport in the next three years will close five stations, located in the city center and in residential neighborhoods, and instead will open five new – on the outskirts.
In particular, in 2017 plans to close three bus stations – "Hem", "southern" and "Kiev Bus station". In the years 2018-2019 will stop working "Darnitsa" and "Country". This is stated in the press service of Kyiv city state administration.
In the near future will open a new bus station "Teremki" on the Ring road. It is qualitatively different from all other stations. Its capacity is 450 flights and 9 million passengers per day. For passengers in the new bus equipped with comfortable waiting rooms, the room "mother and child", shops, cafes, hotel. It is also fully adapted to the needs of people with limited mobility.
Also on the outskirts of Kiev will open the bus station "Red farm", "Forest", "academic" and "Heroes of Dnepr".
In KCSA the transfer stations is explained by the desire to relieve the streets of the capital, because every day in the city I stop the buses and taxis that serve about 3 thousand 7 thousand long-distance and commuter flights.
"Our main goal is the creation of transport hubs in eight major highways of the entrance to the capital. This will allow us not only to relieve the city and to prevent entry into the Central part of the suburban and intercity buses, but also provide transparency for carriers. Thus, Kiev will no longer lose funds from the budget and that at least 780 thousand UAH per day (calculated every day through Kiev runs about 10 thousand suburban and long-distance flights; each bus carries a minimum of 26 people and the fare is at least 3 hryvnia), and will be able to redirect to the improvement of transport infrastructure and improving the quality of service", – noted the Director of Department of transport infrastructure KSCA Sergei Meisel.
Now working in Kiev eight bus stations – private as "Kiev" near the Central railway station, municipal as "Vydubychi" and six state bus "Bus station Kiev", "Hem", "Polesie", "Darnitsa", "Country", "southern".
Comments
comments