To remember for the future! Turchinov urged Ukrainians candles to honor the victims of the Holodomor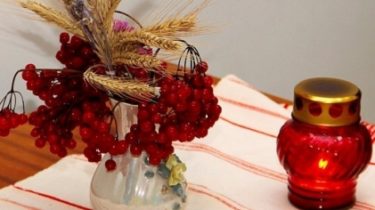 To remember for the future! Turchinov urged Ukrainians candles to honor the victims of the Holodomor
© UNIAN
Secretary of the national security Council appealed to the citizens on the occasion of Day of memory of famine victims.
The famines of 1921-1923, 1932-1933 and 1946-1947, which took place at the personal order of Stalin, became a weapon of mass destruction of Ukrainians and Ukraine.
This was stated by the NSDC Secretary Oleksandr Turchynov on the occasion of Day of memory of famine victims.
"Today is the Day of memory of victims of famine… the famine is one of the most horrific crimes in human history. Millions of our fellow citizens were killed, thousands of villages were deserted," he stressed.
Turchynov said that through the genocide of the Ukrainian people, the Communist regime tried to break our eternal desire for freedom.
"So today the successor of the USSR – Russia – is trying to destroy Ukraine and Ukrainians. Day after day, seizing our territory, carried out the attacks on our positions in the East. Day after day again killed the best sons of our country… bit by bit turned from Ukraine blood, but they will not be able to destroy our will and freedom, our government and our people. Ukraine will live!" said Secretary of the NSDC.
Separately, he also called to remember the terrible events of those times in the future.
"Let's light today at 16:00 candle to honor the memory of Ukrainians who died during the famine. Eternal memory…" – said Turchinov.
Recall, traditionally on the last Saturday of November, Ukraine remembers the victims of the faminethat occurred in Soviet times.
According to the orders of the President of Ukraine Petro Poroshenkoon the territory of Ukraine of November 26 will be lowered state flag of Ukraine and limited entertainment, particularly in radio and television.
The main commemorative events today, November 26, will be held at the National Museum "memorial to victims of Holodomor" in Kiev on lavrskaya street, 3. There at 14:30 to commemorate the victims of Holodomor will meet many residents of the capital, among them – the first persons of the state, heads of Ukrainian churches. The Museum will be guarded by police and security services.
Comments
comments