In the Kremlin told how watching Yanukovych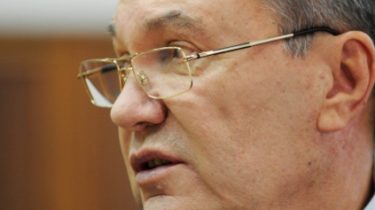 In the Kremlin told how watching Yanukovych
© Reuters
Peskov does not know, whether communicated Putin and Yanukovych in recent times.
The President of Russia Vladimir Putin regularly receives information about eks-the President of Ukraine Viktor Yanukovych.
This was reported by press Secretary of the President Dmitry Peskov, reports TASS.
"Of course, the President (Vladimir Putin) regularly receives information about what is happening around Viktor Yanukovych, which he is taking steps and in which processes it participates," said Sands, answering the question of whether Putin is informed about the trial in the case of crimes on the Maidan and about the participation of Yanukovych.
However, Peskov said that he did not know, did Putin and Yanukovych in recent times.
"I do not have this information," he said.
See also: the Second attempt of the interrogation of Yanukovych in the case of Euromaidan. Video
We will remind, on November 28, in the premises of Sviatoshynsky court on direct communication with the Rostov court, which is now Viktor Yanukovych, Prosecutor General Yury Lutsenko declared suspected of treason ex-President.
November 25, held a hearing on the case of execution of participants Bromido, witness to which is held by Viktor Yanukovych. However, about 30 activists with flags "Right sector" and the "Free people" blocked the departure of the accused Berkut officers from prison. They held in hand posters with inscriptions "the Killers of hundreds of Heaven in jail", "Blood of the Heavenly hundred on your hands" and "Killer jail."
Comments
comments