Yanukovich assures that he was ready to perform "peace agreement"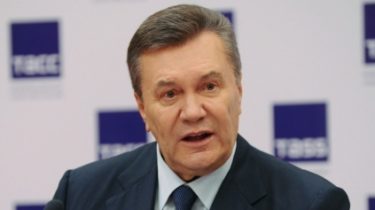 Yanukovich assures that he was ready to perform "peace agreement"
© Reuters
Questioning Yanukovych continues.
Deprived of the title of President of Ukraine Viktor Yanukovych claims that he was ready to fulfill all the points of the "peace agreement".
He declared it during interrogation in the Rostov regional court.
We are talking about changes to the Constitution, and early presidential elections in December 2014.
See also: the Kremlin has told how watching Yanukovych
We will note, today, November 28, during a meeting in the case of the Euromaidan questioned using video communication deprived the title of President of Ukraine Viktor Yanukovych.
We will remind, on Friday, November 25 , held a hearing on the case of execution of participants of Euromaidan, the witness of which is held by Viktor Yanukovych. However, the interrogation did not take place because about 30 activists with flags "Right sector" and the "Free people" blocked the departure of the accused Berkut officers from prison. They held in hand posters with inscriptions "the Killers of hundreds of Heaven in jail", "Blood of the Heavenly hundred on your hands" and "Killer jail."
Yuriy Lutsenko announced the suspicion of ex-President Yanukovych
TSN. 16:45
Yesterday, 17:23
Add to favourites
Viktor Yanukovych almost three years after his escape from the country and the execution of the Maidan was officially suspected of treason. The former President is testifying today in the case of the former soldiers of "Berkut", who are accused of the murder of "hundreds of Heaven". Questioning happens in video mode, and during judicial session Yury Lutsenko and spoke to Yanukovych the suspicion.
Comments
comments