Klitschko has issued a warning to Kiev because of the snow and ice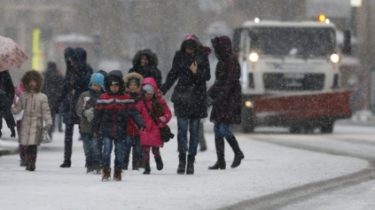 Klitschko has issued a warning to Kiev because of the snow and ice
© UNIAN
On 29 November, the capital was covered with snow.
In KSCA urge drivers to be careful on the roads and, if possible, to use public transport.
About it reports a press-service of administration with reference to management concerning emergency situations of the Department of urban development and the preservation of the natural environment.
Also, utilities are turning to drivers with a request not to leave cars on roadsides so as not to interfere with snow removal.
According to the Ukrainian hydrometeorological center, on Tuesday, 29 November in the capital is expected cloudy weather with clearings, snow. On the roads in some places sleet.
Wind North-Western 7-12 m/sec. Temperature of -1…-3 degrees.
See also: Half of Ukraine is covered with snow. Weather forecast for November 29
Recall that nand the capital of Ukraine was struck by a powerful snowfall, from-for bad weather in Kiev tube. In Ukraine, returned to the frost and matlay, this is stated in the plot of TSN.Ranok. Today will be frosty across the country, except the South. There, and in the East until SnagIt. But the rest of the country – has sprinkles. To the North is rattling the most. Tomorrow frost will forge the whole country. To -10 degrees down the thermometer to the North, in the capital at night -9 degrees. The snow falls and will freeze, forecasters predict, at least until the end of the week.
Comments
comments