Questioning Yanukovych in court was the names of those who could fly to Putin during the Maidan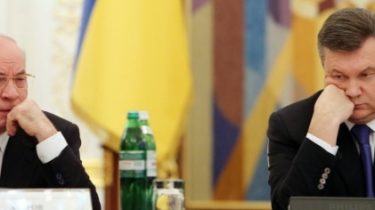 Questioning Yanukovych in court was the names of those who could fly to Putin during the Maidan
Mykola Azarov and Viktor Yanukovych© UNIAN
The meeting took place on the night of February 19, 2014.
A few days before the mass executions of protesters in Central Kiev in the winter of 2014 on negotiations with the Kremlin leadership and Putin personally in the night from 18 to 19 February could fly on a Charter flight then ex-Prime Minister Mykola Azarov, his son and MP from the Party of regions Oleksiy Azarov, the head of the security Masyuta.
On this day, 28 November, said the Prosecutor, who conducted videotapes former President of the fugitive Viktor Yanukovych, who is in a Rostov court in Russia.
Read also: Yanukovych told what to do in a day of bloody shootings on the Maidan
"I'm Azarov not followed", – said Yanukovych, not denying and not confirming the words of the Prosecutor.
Yanukovych also accused Firtash and Lyovochkin in the destruction of "stability" in Ukraine.
Comments
comments