Yanukovych told what to do in a day of bloody shootings on the Maidan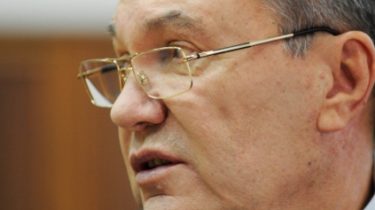 Yanukovych told what to do in a day of bloody shootings on the Maidan
© Reuters
According to him, nothing "extraordinary in this day happened."
Ex-President Viktor Yanukovych said that he finds it difficult to recall the events of 20 February 2014. However, he stressed that this day talked with Putin, Komorowski and Merkel.
On Yanukovych said at the interrogation by videoconference on November 28.
"I find it hard to set the event in its memory. I was told that to Kiev there will arrive delegation of the EU, composed of 3 Ministers. I was preparing for a meeting," Yanukovych said.
The Prosecutor's question, Yanukovych said: "there is Nothing extraordinary in the day(20 Feb 2014) in my day didn't happen."
Also according to him, nothing is known about which orders were given to representatives of law enforcement agencies on the morning of 20 February 2014, during the events on the Maidan, which killed and injured participants of mass actions of protest.
"No, I know nothing about it. I personally for them (opposition leaders) have not followed", he said.
Read also: suspected Yanukovych of the GPU in detail the capture of the Crimea. Document
"Can only say that on 20 February in the afternoon, we started negotiations, which ended on the morning of 21 February," he said.
To the question if he knew why the security forces on 20 February began to retreat from the Maidan, Yanukovych said: "we Know that they started shooting from different weapons and had a lot of injuries and were killed by law enforcement officials, and they were forced to defend and retreat".
The question was whether the security forces any promises from the government regarding the receipt of privileges or material goods, or had any financial incentives for representatives of bodies of internal Affairs during the period from November 2013 to February 2014, Yanukovych said: "to Me the facts are not known, never heard."
Also, according to Yanukovych, about the events on the Maidan he learned from the media.
We will remind, earlier Yanukovych said that during the Bromide in PR fraction worked the opposition MPs, which were supposed to be "some of the oligarchs" and began to lean toward the opposition.
Comments
comments