"She's not worth a damn!". Yanukovych told how he decided to leave his residence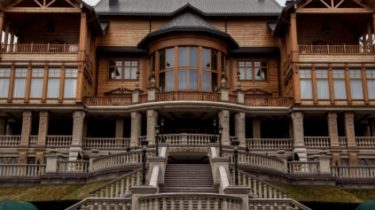 "She's not worth a damn!". Yanukovych told how he decided to leave his residence
© UNIAN
He told the Russian media that he offered to burn Mezhyhiria.
President-the fugitive Victor Yanukovych in comments to the Russian newspaper Kommersant said that his biggest mistake was to go from Kiev to Donetsk and to leave his residence "Mezhyhiria."
See also: "Not my KAMAZ": users of social networks reacted to the questioning of Yanukovych
"I guess it was my biggest mistake that I left Kiev. This is the biggest mistake! I didn't have to go from Kiev! But the situation was so… I was sure for hundred percent that it would begin to storm the residence! And I was there the soldiers of my guard, serious, loyal, about a thousand people, armed to the teeth, and they would to death standing there! And they would, of course, breaking anything that would put people there is a huge number!" he said.
Yanukovych added that loved ones asked him a question: "Should the residence having to put people here?"
To which he replied: "she's not worth a damn!"
"First, I have no residence, I have a house there, for which I paid three million two hundred thousand, the rest of it — not my property! Protect it and stand there to death?!!" he said to the journalist.
The former President stated that "the question was not about my protection and about protection of the residence!" However, he added that it belonged to "other people."
"I was standing professionals with machine guns, automatic weapons! And then I said "fuck it, this residence! Let open the gates, let them look!.." Some told me: "Yes, we let her burn in hell!.." I said, "what do you mean? What I have to do with this?! It is not my property to shoot! It belongs to absolutely other people."— "How do you live here?" — "Signed the lease!" In fact, the owner is there all this and soon your voice will give," – said Yanukovych.
See also: Crumbs of information after questioning Yanukovych will be used – a representative of the protesters
The former head of Ukraine added that his property was a house of 620 square meters and 1.7 hectares of land that "was given the two presidents in perpetuity".
"I bought this house, was unformed land, I officially applied and it also bought!", he added and noted that pay taxes and utilities.
"They don't know that I all these documents were collected and what they've got!!! — voskliknul. And so very soon there will be a different sensation! Wait!", warned Yanukovych.
Viktor Yanukovych called the stay in Russia the worst time of his life
TSN. Pdsmi day
Today, 00:58
Add to favourites
Immediately after the interrogation of Viktor Yanukovych gave a press conference in Rostov court and answered the questions of Russian journalists. He called the stay in Russia the worst time of his life and said – I am sure that still has supporters among Ukrainians and wants to return.
We will remind, on November 28, in the premises of Sviatoshynsky court on direct communication with the Rostov court, which is now Viktor Yanukovych, Prosecutor General Yury Lutsenko declared suspected of treason ex-President.
Yanukovych during videotapes said that does not remember his telephone conversations with Russian President Vladimir Putin during the events in Central Kiev. Information about your conversations advised to look at the website of the President of Ukraine. The chronology of interrogation Yanukovich is available here.
Comments
comments