The budget of Kyiv in 2017 will grow by a third. Klitschko, who promises more money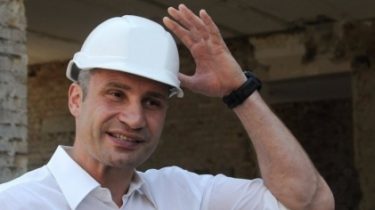 The budget of Kyiv in 2017 will grow by a third. Klitschko, who promises more money
The mayor of Kiev Vitali Klitschko© UNIAN
Capital deputies will consider the draft budget on 1 December.
The budget of the capital in 2017 will be 36 billion 778 million. This is 36% more than this year – 27 billion.
The mayor of Kiev Vitali Klitschko during today's presentation of the budget explained that the figure increased due to the budget overrun this year by almost 30%. This is the third presentation of the city budget for 2017.
"The healthcare industry of the capital will receive an additional 3.7 billion. As for education in Kiev will be further used 2.8 billion hryvnia," – said Klitschko.
See photos: "Kyivenergo" Akhmetov may lose control over the heating systems in the capital – Klitschko
Will also increase capital spending.
"I think all the people of Kiev and guests of the capital this year noticed where, in particular, we spent it. For example, in Kiev, capital repaired, more than 80 roads (200 km). Next year we will continue to invest in infrastructure capital. In the program of socio-economic development in General, capital expenditure is planned over 5 billion hryvnia. Compared to early 2016, these articles have provided 2 billion. But at the expense of additionally attracted funds we have increased. I hope to increase next year," said the mayor.
For projects that propose to bring to Kiev residents lay 50 million.
"We are so-called "Budget participation", which in the capital budget proposes to allocate UAH 50 million. This is money for projects that will be offered for the city of Kiev", – said Klitschko.
Kyiv city Council will consider the draft budget on 1 December.
Klitschko also promised to publish on the website of the KSCA report on the activities of city government in 2016, as did the previous two years.
Comments
comments