The second videotape of Yanukovych in the case of the Euromaidan completed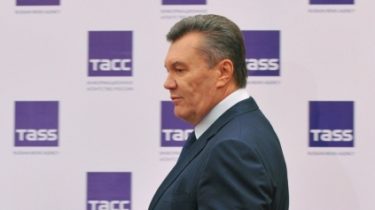 The second videotape of Yanukovych in the case of the Euromaidan completed
© Reuters
Another hearing is scheduled on December 2.
Second questioning of the President-the fugitive Victor Yanukovich ended.
Rostov court offered to continue the questioning of the second witness.
"As you know, he is awaiting interrogation, and the Rostov regional court has the technical ability to continue questioning and to extend it to 22 PM (Moscow time) – said the judge.
But Sergei Dyachuk said that the participants in the process are tired, and the working day is over, so I offered to hold him on 2 December at 13.00.
Read also: Yanukovych stated that still has not relieved itself of responsibility for the Ukrainian people
"The court carefully listened to all decides which notifies the Rostov court that the appropriateness of a start today, taking into account the wasted resources of time and still fatigue, Svyatoshinsky court considers it inappropriate in view of the fact that still the second day of this scheme which is agreed upon by the participants of the process involves this meeting. We still ask the Rostov regional court to consider holding this interrogation it was December 2, in Rostov convenient for the court time, ie at 14:00 hours GMT and 13:00 on Kiev", – said in the Svyatoshinsky court.
After that, the Russian judge asked about a 10-minute recess to figure out the technical possibilities for establishing a video conference with Kiev at the present time.
Note of online questioning of the former commander of internal troops Stanislav Shulyak, who is hiding in Russia, was postponed to 2 December at 13 hours. This decision was agreed Svyatoshinsky court of Kiev and Rostov regional court.
Shulyak was supposed to interview today, November 28, but before it had questioned former President Viktor Yanukovych, whose interrogation lasted for six hours. Therefore, the Rostov court had only two hours to provide a link for evidence of ex-strongman.
That said Yanukovych during interrogation, learn to text translation.
Comments
comments