Insults and middle fingers at the camera. In the Kiev subway showed an obscene beggar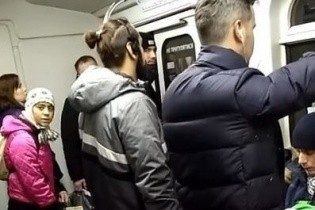 Insults and middle fingers at the camera. In the Kiev subway showed an obscene beggar
© Kiev metro
In the subway urging passengers to donate money.
The press service of the Kiev metro in Facebook posted a video with a girl, a beggar, who swore at a passenger and showed him obscene gestures.
Metro workers are once again urged not to give money to people begging in the carriages.
Read also: In Kiev metro will increase the number of cops
"The new blockbuster from our passengers! People, be careful, don't sacrifice money in the subway! For your of the hryvnia will not gratitude, but the language in the back," – said in comments.
Curses that sound from the heroine video, it is difficult to disassemble. Well heard only the word "jerk".
Earlier "x-files" to find out how much money you make scammers on the sympathy of the Ukrainians.
Scandalous exposé of beggars
Classified material
10 Nov, 13:34
Add to favourites
Streets, transportation and dungeons the majority of the Ukrainian cities are literally teeming with beggars. The x-files will tell and show you how much money to bring games with compassion Ukrainians. To find out all the secrets, journalists are embedded in a dirty business and understand which of them charlatans, who is in bondage to the mob, and who really needs help.
Comments
comments