SBU "take" for the Nikolaev Deputy Emergency for insulting the Ukrainian flag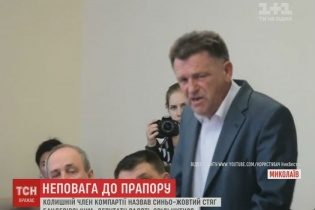 SBU "take" for the Nikolaev Deputy Emergency for insulting the Ukrainian flag
The Deputy again with the lack of state symbols.
Disrespect to the national flag. So deputies of the Nikolaev regional Council appreciated the words of his colleague Nicholas Imminent, says TSN.12.00.
He called the blue-yellow flag of Ukraine "Bandera", and "which met the Germans." It happened at one of the meetings of the constant Deputy Commission. The Deputy was outraged by the audience.
Soon, the former leader of the Communist party, not for the first time gets into a scandal with the state symbols. A year ago, he refused to stand up for the national anthem. Then any punishment the Deputy was not. This time the words Soon became interested in SBU.
"Man does not respect our country. I think people should live in another state, if it does not respect the symbolism. And the public should come and ask him to put the mandate", – the Chairman nikolayevskoy yeah Alexey Savchenko.
Comments
comments