Klimkin told what issues will be discussed at "Normandy" meeting in Minsk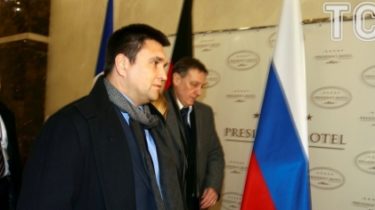 Klimkin told what issues will be discussed at "Normandy" meeting in Minsk
© Reuters
Ukraine will insist on a speedy release of the hostages and they will raise this issue as a key.
"Channel" meeting on the level of foreign Ministers will hold today, November 29 in Minsk. There have already gathered the foreign Ministers of Ukraine, Germany, France and Russia.
The Ukrainian delegation in Minsk will put as top-priority security issues and humanitarian.
This Minister Pavlo Klimkin said before the talks, said the first Vice-speaker of the Verkhovna Rada, Ukraine's representative to the Humanities subgroup of the contact group Irina Gerashchenko on his page in Facebook.
"The Ukrainian side expresses its indignation at the fact KPVV unopened "gold" that is blocked from March 2016. The Minister said he was ready today to invite to the opening KPVV their colleagues of Steinmeier, and Era, is possible though so the Russians will give the go-ahead ORDO not to mock the civilian population and to open, finally, this point," she wrote.
See also: New Minsk: Lukashenko offers to improve relations between the EU and Russia
Herashchenko stressed that Ukraine insists on a speedy release of the hostages and they will raise this issue as a key priority.
"We demand the immediate release of 57 hostages that their content is confirmed ORDO. Also, the Ukrainian side will raise the issue of hostages in Russia. Just ORDO, according to the SBU, contains 108 hostages, but so far ORDA endorse the content, only 57" – added Gerashchenko.
She also added that the meeting will be to insist on the immediate admission to the ICRC, missing persons, list for today, 495 people.
"Ukraine is concerned about the daily violation of the silence and provide convincing factual material violations, the work of the Russian woners in Donbass", – said the politician.
And another important topic, told Gerashchenko, is the creation of a Russian environmental disaster in the Donbass, starting with the water supply (Toreck that is already a week without water), and continuing with other such stories, which today put the Minister and the Ukrainian delegation.
Became known, some questions will raise Ukraine at talks in Minsk
TSN. Wounds
Yesterday, 10:27
Add to favourites
The release of prisoners, security policy and humanitarian situation in the temporarily occupied territories of Donbass – these questions today, the official Kiev will raise in Minsk. After lunch in Belarus will meet the foreign Ministers of the countries participating in the so-called "Norman" format.
Comments
comments