Stinking road accident in the Dnipropetrovsk region, the building of the Ministry of internal Affairs resulted in 20 tons of pig feces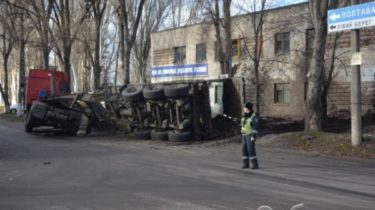 Stinking road accident in the Dnipropetrovsk region, the building of the Ministry of internal Affairs resulted in 20 tons of pig feces
Curiosities
Today, 00:49
1 of 6

© sobitie.com.ua

1 of 6

© sobitie.com.ua

1 of 6

© sobitie.com.ua

1 of 6

© sobitie.com.ua

1 of 6

© sobitie.com.ua

1 of 6

© sobitie.com.ua
© sobitie.com.ua

© sobitie.com.ua

© sobitie.com.ua

© sobitie.com.ua

© sobitie.com.ua

© sobitie.com.ua
The consequences of the accident eliminated in the complex from the stench conditions.
29 November in Kamenka, Dnipropetrovsk region (former Kiev) happened unusual accident. Near the building of service centre of the Ministry of internal Affairs (the former MREO) turned over the DAF truck carrying about 20 tons of pig feces.
The contents of the truck spilled out onto the road and sidewalk, as well as heavily splattered the interior Ministry building, writes the local edition "Event."
The accident occurred around 9 cheers, and to eliminate the consequences of an accident closer to noon. All the time, the County had a strong fetid smell.
The driver of DAF said that the accident occurred due to the failure of his truck. Law enforcement authorities have a different opinion on this subject – according to them, the cause of the accident may be speeding and the rules of carriage of such goods.
Comments
comments