The Prosecutor General's office summoned Yanukovych to Kiev for interrogation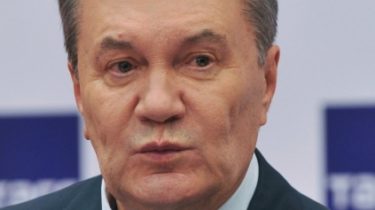 The Prosecutor General's office summoned Yanukovych to Kiev for interrogation
Viktor Yanukovych© Reuters
He is asked to arrive at 10.00 on 5 and 9 December.
The General Prosecutor of Ukraine is the President of the fugitive Viktor Yanukovych for questioning as a suspect in treason.
See also: "she's not worth a damn!". Yanukovych told how he decided to leave his residence
Of the summons for questioning was published on the official website of the Prosecutor General.
He is asked to arrive at 10.00 on 5 and 9 December, the head of the investigative Department of the Main military Prosecutor's office of the GPU to participate in the interrogation.
Agenda sent to the addresses of Yanukovych in Kiev, Vyshgorodsky district of Kyiv oblast and in Rostov-on-don (Russian Federation).
Questioning Yanukovych: the fugitive President is ready to cooperate with the families of the Heavenly hundred
TSN. Wounds
Yesterday, 08:05
Add to favourites
Yanukovych of the witness became suspect, at least in Ukrainian television. The Prosecutor General's office accuses him of treason and aiding and abetting the Russian aggression against Ukraine. Suspected President-fugitive declared during questioning in the case of mass shootings on the Maidan. Yanukovych also testified with the Russian Rostov video.
We will remind, on November 28, in the premises of Sviatoshynsky court on direct communication with the Rostov court, which is now Viktor Yanukovych, Prosecutor General Yury Lutsenko declared suspected of treason ex-President.
Yanukovych during videotapes said that does not remember his telephone conversations with Russian President Vladimir Putin during the events in Central Kiev. Information about their negotiations advised to look at the website of the President of Ukraine.
The chronology of interrogation Yanukovych.
Comments
comments