Mansion with an artificial pond and a 4 bedroom apartment. Journalists showed luxury real estate Kirilenko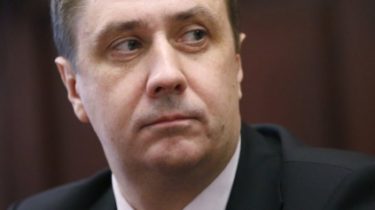 Mansion with an artificial pond and a 4 bedroom apartment. Journalists showed luxury real estate Kirilenko
© UNIAN
Vice Prime Minister together with his wife own a luxurious Palace with an area of 900 sq. m. near Kiev.
Vice Prime Minister Vyacheslav Kyrylenko, who a day was not a businessman and more recently complained about the lack of money for fueling their own cars, is the owner of real estate.
This is stated in the investigation "the Investigation.Info".
According to journalists, Kirilenko acquired a four-room apartment with an area of 156,42 sq m in high-rise building on Moskovskaya street in the Pechersk district of the capital. The house offers a magnificent view on Kiev and its main symbols: the Dnieper, the Lavra and the monument to Motherland.
The cost of this apartment 10 years ago, the experts estimated at 600-700 thousand dollars.
"Beyond repair from $ 300-400 per square meter to several thousand dollars per square meter. Accordingly, it may be 200-300 thousand in order for this class to repair a flat and live in it," said real estate expert Denys Sedakov.
See also: Luxury apartments were sprouting like mushrooms: the reporters found the increase in income of the family head of the Chernobyl
Now the prices for such apartments, like Kirilenko, will start from UAH 10 million.
At the same time, the family of Vice-Premier has a luxurious Palace in 15 km from Kiev in the village Ivankovic Vasilkovsky district – the size and architecture which is more like the Palace of culture.
Country residence of the former Minister of culture, and nowadays the Vice-Premier Kirilenko is just three to five minutes walk from the centre of the village. The declared residence of his wife – Catherine Kirilenko. According to the extract from the register of real estate, in 2013 year she received in the village a gift of five parcels of land, which together form almost 80 acres, where stands the nearly finished mansion area of over 900 sqm For him on the site is an artificial pond, then the plot expands, it crosses a stream with two bridges, and beyond it the land rises a few faux tiers with steps, ending with a border with the forest where planted around the perimeter of the tree.
According to the expert real estate if not to take into account the services of the landscape designer, the house and land are worth a lot.
"I would estimate five thousand dollars for a hundred. In 2013, it could cost you. Accordingly, there are about 400 thousand dollars for a plot – guide price", – he stressed.
The name of the giver of a valuable gift to his wife Kirilenko is unknown. At the same time, Deputy Prime Minister refuses to comment on it.
Comments
comments