Media published a letter of defense of Russia with the threat of shooting down a Ukrainian missile near the Crimea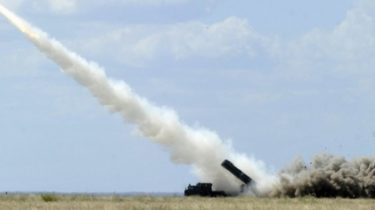 Media published a letter of defense of Russia with the threat of shooting down a Ukrainian missile near the Crimea
© UNIAN
Russia says may strike at the Ukrainian territory.
Appeared to confirm threats of the Ministry of defense of Russia addressed to the Ukrainian defense Ministry because of the exercises near the Crimea.
The text of the letter addressed to the military attaché at the Embassy of Ukraine in the Russian Federation, published by "the Ukrainian truth".
The document States that the defense forces of the Armed forces will shoot down Ukrainian missiles if they appear above the Black sea to the West coast of the Crimean Peninsula.
See also: At the headquarters of the Air forces of Ukraine told the details of the planned launch of missiles near the Crimea
It is noted that if the missiles would pose a threat to Russian objects on land, at sea or in the air, then there will be blows for the destruction of their start-up.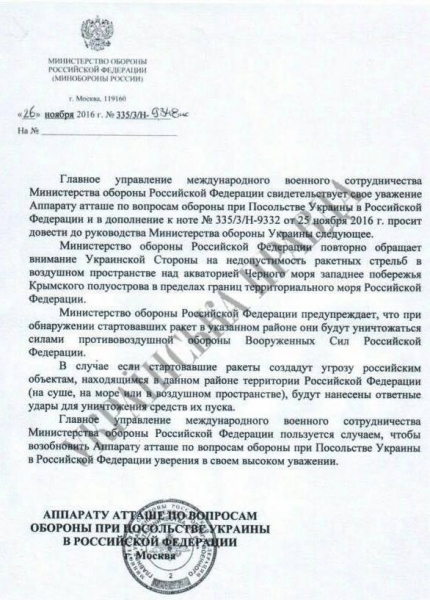 Ukrainian Pravda
We will remind, on November 25, the Federal air transport Agency of Russia (Rosaviatsia) announced intentions of the Ukrainian side to conduct missile firing in the air space over the occupied Simferopol. Rosaviatsia noted that Ukraine unilaterally adopted a decision to conduct firing, and called the district over the occupied Peninsula "sovereign airspace of the Russian Federation".
Later in the Ukrainian Armed forces said that in the period from 1 to 2 December in the southern part of Ukraine, will research the competition of Air forces of VSU. Security forces said that the shooting will be carried out in accordance with international law.
Earlier from Russia reported that they consider these measures a dangerous and such that the borders of Russia by sea. Simultaneously it became known that in the Crimea brought a powerful rocket complexes With-300. The Russians have threatened that in case of exercises can strike at Ukraine to shoot down missiles and attack launchers on the territory of Kherson region. The Ukrainian national security Council threats to use the Kremlin's weapon is called "attempt to move into an active phase of the hybrid war that Russia is waging for the last three years." Russian military claim that the shooting will take place, regardless of the hysterical statements of the Russians.
The Russians are threatening to launch a missile attack on Ukraine
TSN. 19:30
Yesterday, 20:50
Add to favourites
The Kremlin is scared of training of Ukrainian troops in the Kherson region, which will be the first and the second Dec. Ukraine warned about shooting aviation international organization. But the Russians already think the airspace near the Crimea and therefore his promise to shoot down the missiles and destroy the launcher.
Comments
comments