Russia paid a huge price as a result of sanctions – Kerry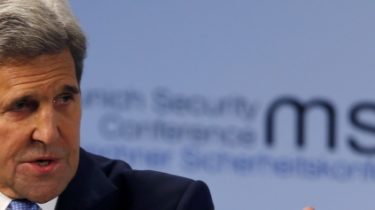 Russia paid a huge price as a result of sanctions – Kerry
© Reuters
Russia itself hurt herself – said the Secretary of state.
Sanctions the United States and other Western countriesimposed against the Russian economy, the Kremlin took the thought of a possible attack on Kiev.
this was stated by U.S. Secretary of state John Kerry, writes UKRINFORM.
"We strongly support a democratic Ukraine, so those who complain should look at the reality that our sanctions, our participation, our support of Ukraine actually operedila Russia from thinking that to Kiev was easy to get March", – said the head of the state Department.
He stressed that Russia "has paid a huge price" as a result of sanctions. "The ruble fell sharply, capital, output, unemployment rising – all due to the fact that Russia itself causes damage," – said the Secretary of state.
Read also: In Russia, promised that the canadian sanctions will not remain unanswered
Previously, the Federal Chancellor of Germany Angela Merkel and President Barack Obama discussed the importance of maintaining sanctions against Russiauntil the Kremlin does not fulfill the Minsk agreement.
Comments
comments