NABU said that Lutsenko misunderstood their claim to Holodnitsky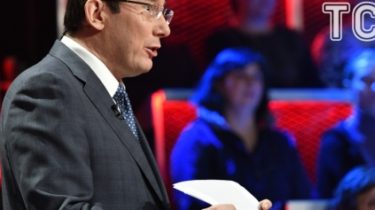 NABU said that Lutsenko misunderstood their claim to Holodnitsky
© Dnia
The Bureau noted that he did not want to prosecute the anti-corruption Prosecutor.
National anti-corruption Bureau of Ukraine said that he has not asked Prosecutor General Yury Lutsenko to prosecute the head of Specialized anti-corruption prosecutors Nazar Gorodnitskogo. Such Lutsenko's statement made on the eve of the live talk show "Right to rule" on channel 1+1.
In an official statement the NAB said that asked not about accountability, and filed a complaint about the inaction, and only in certain legal framework.
The Bureau says that it is about "business MAU," which NABS suspects the chief accountant of the airline and former head of the SAS in misappropriation of funds. According to the report, 10 November, the Bureau sent for approval Oldnickname the message of suspicion. But on November 24 received from the head of SAP refusal to reconcile these messages of suspicion.
"After analyzing the letter, detectives Bureau came to the conclusion about the mismatch made judgments and conclusions actual data, confirmed in the criminal proceedings. Therefore, according to the requirements of the legislation (articles 311-312 code of criminal procedure), addressed to the Prosecutor General on 25 November received a complaint about the inaction of the Deputy – Head of SAP," – said in a statement NABOO.
According to the Bureau, of such a required by law, as Lutsenko did not understand the situation properly.
"Instead look at the merits of the complaint and take action as required by law, the attorney General made a public statement that could harm the interaction between NABU and SAP", the statement ends.
Also published for reference to the full text of the complaint:
The complaint to the NEB inaction Gorodnitskogo from tsnua
NABU asked Lutsenko to bring to justice Holodnitsky
Policy
Today, 01:07
Add to favourites
Between the National anti-corruption Bureau and the Special anti-corruption Prosecutor's office confrontation in which they are trying to take the situation by the GPU. In particular, the NEB was asked to prosecute the head of the SAP.
Comments
comments