Putin commented on the possibility of the release of Sentsov: Due to Mature conditions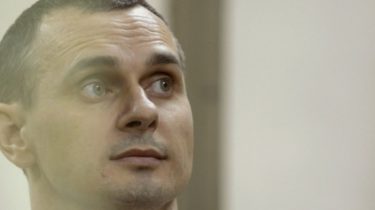 Putin commented on the possibility of the release of Sentsov: Due to Mature conditions
© Reuters
The Russian President believes that the issue should be resolved by the court.
Russian President Vladimir Putin responded to the call to release Ukrainian Director Oleg Sentsov.
About it reports "Interfax".
With a corresponding request addressed to him by the Russian Director Alexander Sokurov. Putin, in turn, called the matter "sensitive".
See also: Prisoner of the Kremlin. Everything you need to know about the case.
"Thank you drew attention to it, I know that this question is sensitive, I'll keep that in mind", – Putin said at a meeting of the Council under RF President on culture and art and the presidential Council on the Russian language.
However, the Russian leader added that to resolve such questions to the court: "the Christian to act in this matter, we can not, must be guided by the decision of the court. We live in a legal state, such issues should be resolved by the judicial system."
He also said that the court's decision is already made and there are certain rules and regulations that you can use, but you need to "ready the relevant conditions." This quotation leads RIA "Novosti".
According to Putin, Sentsov went to jail not for creativity.
"He took on completely different functions, according to the investigating authorities and the court, namely – in fact, has dedicated his life to terrorist activities," – said the Russian President.
As previously reported, the Ukrainian film Director, screenwriter and Euromaidan activist Oleg Sentsov, Russian FSB detained in the night of 11 may 2014 in Simferopol and accused of preparing attacks in the Crimea, in particular, He is charged with the management of subversive and terrorist group "Right sector", which allegedly made on 14 and 18 April 2014 arson of the headquarters of the "Russian community of Crimea" and "United Russia" in Simferopol, and also prepared in the Crimean capital of explosions near the Lenin monument and the Eternal flame.
25 Aug Sentsov was just sentenced to 20 years imprisonment in a strict regime colony. In turn, Kolchenko, was sentenced to 10 years. During the reading of the verdict, the Ukrainians sang the national anthem of Ukraine. 24 November 2015, the Supreme court ruled to leave the verdict to the Ukrainian Director Oleg Sentsov and Ukrainian activist Alexander Kolchenko unchanged.
Comments
comments