Volyn MPs threaten resignation of state administration officials, unless there is a report of the head region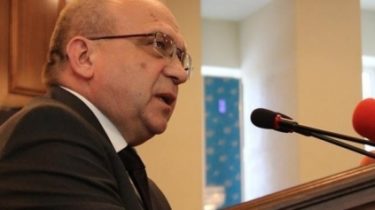 Volyn MPs threaten resignation of state administration officials, unless there is a report of the head region
© facebook.com/Владимир Huncik
Regional officials accused of sabotage.
Deputies of Volyn regional Council demand that the head of the region Vladimir Gunica report on the use of budget funds in specific areas.
According to the newspaper "Volyn newspaper", the report of the head of the region must be presented at the next session on December 21. In his absence, the deputies will decide whether to accept the appeal to the President of Ukraine with a proposal to immediately suspend from office the local officials.
In particular, the head of the largest faction of the party DILL V. Rublev said about the lack of funds for the purchase of the required 36 school buses. Gunica blame the fact that 34 of the bus "Bogdan" was purchased to bypass the system ", Prosaro".
In addition, December 21 from Vladimir Gunica waiting for the report and the implementation of programs of socio-economic development, as urged by the Deputy Volodymyr Kucher.
"We all know that the state administration and its subsidiaries in all of our decisions on funding of other areas frankly sabotaged… So, after hearing the report of Vladimir Petrovich might put the question of compliance of the chiefs of profile managements and Vice-Chairman of regional state administration on the conformity to their positions," – said the Chairman of a regional Council Igor Palitsa, adding that from the allocated 5,5 million UAH for the construction of 72 toilets for Volyn students spent only UAH 1 million for 11 wireline.
He also said that the report of Gunica was not two years. At the moment, the idea of the report of Gunica support and at a fraction of the "Our land".
In turn, according to the Deputy of a regional Council from "Blok Petro Poroshenko "Solidarity" and the President of the Kovel district administration, Viktor Kozak, the report of the head of the regional state administration in December for the entire year is impractical.
In the administration of the state administration of TSN.ia said that now form its position regarding the requirements of Volyn deputies.
Comments
comments