"Film" Onishchenko. Against Poroshenko has audio on four sleaze media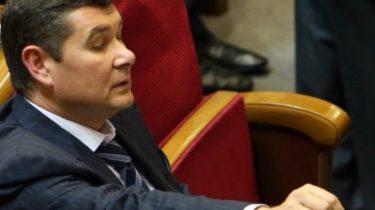 "Film" Onishchenko. Against Poroshenko has audio on four sleaze media
Alexander Onishchenko© UNIAN
The people's Deputy, the fugitive allegedly gave the recording of the Russian and later American intelligence agencies.
A scandal involving the possible secret recordings of people's Deputy, the fugitive Oleksandr Onishchenko and Ukrainian President Petro Poroshenko and his entourage are gaining new momentum. Onishchenko claims that these compromising already handed over to US security officials, who specially flew to London, where now lies the MP.
It is not excluded that the first Onishchenko gave these recordings made on the built-in voice recorder wrist watch, the Russian security services, because he flew to Moscow. This writes Yulia Mostovaya in the material of the newspaper "Mirror of week. Ukraine". She claims that sources from the nearest environment Onishchenko called the four main controversial topics regarding Poroshenko and his entourage.
"According to sources DT.ua of the inner circle of the people's Deputy, Onishchenko has multiple case records. In the first, the purchase of votes under the necessary decisions in the Parliament hall. The second spin of threads and the proportion in favor of the businessman Poroshenko and Co. In the third, the shadow distribution of dividends from the same team in the field of "Subsidiary", – stated in the material.
A portion of the records concerns the attempts of purchase of the TV channel "112 Ukraine".
"There is a fourth case recorded, however, is not new-Melnichenko, and people media, owner of the Victor Zubritsky, and he regards the whole complex of trades people Poroshenko, for talks given by Alexander Onishchenko, when you try to purchase (squeeze out) of the channel 112," notes Bridge.
The address of the Deputy of the fugitive to the US intelligence could be an attempt to keep the possibility to move freely the civilized world, and the cover operation.
We will remind, Onishchenko told me how "stoked" Yatsenyuk as Prime Minister, persuaded Yulia Tymoshenko to the "right" decisions and corruption surrounded by Poroshenko. In the President's Administration deny the charges and a reminder that Onishchenko accused of corruption acts in the activities of the subsidiary, which caused the state damage in 3 billion. In addition, he is charged with treason.
Comments
comments