Muzhenko said Ukrainian army transformerait to NATO standards. 5 strategic goals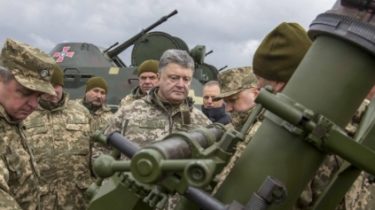 Muzhenko said Ukrainian army transformerait to NATO standards. 5 strategic goals
© UNIAN
The General staff has transferred to the Cabinet the program of development of Armed forces of Ukraine up to 2020.
In the Ukrainian army to hold reform up to 2020, and standards will match those that exist in NATO.
The corresponding state program of development of Armed forces of Ukraine has already developed the General staff and handed over to the Cabinet. In an interview with "UKRINFORM" said the chief of the General staff – Commander-in-chief of VSU the General of the army Viktor Muzhenko. Further, this program will be submitted to the NSDC and the presidential Administration.
The document provides for the implementation of the already adopted strategic decisions.
"It defines tasks and activities to the planned acquisition of the Armed forces capabilities to respond effectively to threats to national security in the military sphere, including issues of border defense, protection of sovereignty and territorial integrity. An important component of the program is a sequential movement to transition the Armed forces of Ukraine to Euro-Atlantic standards," – said Muzhenko.
See also: Muzhenko told how in the future will match the Ukrainian army
The main efforts in this direction are aimed at achieving full interoperability of units of the UAF with the NATO forces.
"It is clear that NATO membership is a political issue. We see in solving practical problems in the training of troops, to adapt ways and methods of their use to the rules and regulations that exist in the NATO countries. The main purpose of these efforts is the achievement of full interoperability of Ukrainian units with the forces of the Alliance. This brand is a real prospect," said the General.
The program provides for the implementation of the five strategic goals identified by the Strategic defence Bulletin of Ukraine.
"We are talking primarily about the creation of an effective system of management of the Armed forces, the improvement of the system of defence planning, acquisition of the Armed forces the necessary abilities, the establishment of a unified logistics system and logistics, as well as that very important fighting experience, improving the system of medical support of the Armed forces. Another major and important area, which is reflected in the programme is the professionalisation of the Ukrainian army and system development services in the military reserve," – said Muzhenko.
Earlier it was reported that the defense Ministry will determine the specific terms of contract of service instead of "to the end of the special period".
Comments
comments