The military established the Ukrainian flag under the noses of the militants in the South of the Donetsk region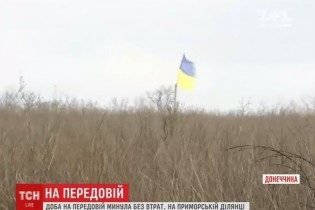 The military established the Ukrainian flag under the noses of the militants in the South of the Donetsk region
However, to remove his enemy could not – the soldiers sweep the area and not allowed to approach the flag.
Ukrainian flag in the middle of the field pretty annoying Pro-Russian terrorists in the South of the Donetsk region, however, the enemy has nothing to do with it. To knock him out of weapons to militants lacks accuracy, but to come and tear by hand is impossible due to the vigilance of the soldiers of the ATO, according to a story TSN.19:30.
"We put the flag in front of us and close to them so they know that we can approach them, what we can get. This is our land, walk safely and freely without fear", – said the soldier with the Callsign "Elvin". He was preparing to become a speech therapist, but life is peaceful now for him – past and future. Now – in the war that he learned not to be afraid. "When we stopped, it was very hard and scary. Each output of heavy artillery were waiting for the second to ward, lay ran to the dugout and now it's like 200 metres or so and no response," – says the fighter.
At the forefront of a lot of experienced fighters. "Zelenopolye is the worst place I've ever been," says the call, "Rus". He saw a lot of terrible deaths, but decided to stay to serve under the contract. "How do you say… Someone needs to defend their Homeland. Why not me" – said the military. Now the gunner calmly, without strain, suppresses enemy fire for their friends, who did not come from the environment, and fellow soldiers who were disabled. And acknowledges that the age in the war does not play a decisive role. "Age is erased. Many commanders of young but experienced guys," – says the fighter.
We will remind, in the end of last week , was detained militants "DNR" on PPC in Gnutovo. He tried to get to government-controlled territory under the guise of a civilian.
The TSN reporter Ruslan Yarmolyuk
Comments
comments