Gerashchenko shocked at how many "wound" of her official car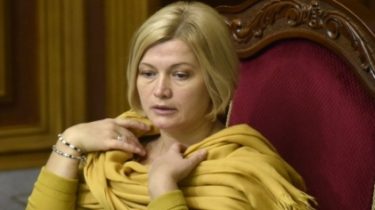 Gerashchenko shocked at how many "wound" of her official car
© UNIAN
During her official release of her official car allegedly drove 4229 kilometers.
In a carpool BP "launder" thousands of hryvnia on cars.
About this in Facebook said the first Vice-speaker Irina Gerashchenko.
She told me that she rarely uses a car service, except that in the session the day auto brings her in BP. And in the regions she travels on the private car. However, she was shocked when she received information from the head of the transport Department about how many kilometers we drove her car.
"According to the statement, the car of the day "pulls" at least 120 km , including in the days of my weekly trips to Minsk. In August, when I had official leave and was absent in Kiev, the car "wrapped" 4229 km In September, when I had a lot of trips and I have not seen the children for weeks, the car was "reeled" 5,000 km", – told Gerashchenko.
"Obviously, this statement signed by a Director of a motor depot, a Testament to their confidence in impunity and that I'm just not going to read and understand. And if on one machine you can steal and write off hundreds of liters of gasoline per month, it is difficult to imagine the situation as a whole. Every month only one car is written off or stolen up to 10 thousand hryvnia," – she added.
Therefore, Gerashchenko has already written a formal request to the head of BP to create a Commission to deal with the situation. She urged fellow MPs to write to the official address on their trips.
She also added that the need to immediately appoint a chief of staff of BP, which would have dealt with the Parliament's budget and is accountable to the public and members of Parliament for every penny spent.
Read also: defense Ministry Officials have stolen ammunition and tanks dismantled for parts
We will remind that earlier security Service of Ukraine exposed the scheme of embezzlement of public funds "Ukrzaliznytsia" in Kharkiv region.
It is established that officials of one of the structural units of the regional branch of "southern railway" systematically plundered public funds intended for the repair of freight cars, as well as components and assemblies of rolling stock.
Comments
comments