If the EU will not give Ukraine bezviz, you will lose credibility and political leverage Khan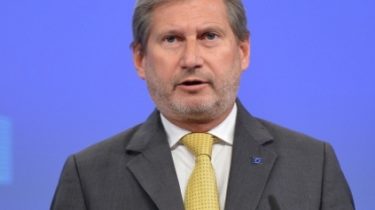 If the EU will not give Ukraine bezviz, you will lose credibility and political leverage Khan
© Getty Images
The Commissioner has accused some EU countries of deliberately delaying the process.
The EU will lose credibility and political leverage, if you do not provide visa-free regime for Ukraine and Georgia.
This was stated by the European Commissioner for European neighbourhood policy, Johannes Hahn, reports Radio Liberty.
"If we can't fulfill our obligations and promises in the future, we will lose not only trust, but also political leverage. That's why I encourage everyone, including members of the European Parliament to find a solution with the European Council," he said.
The Commissioner noted that some member countries of the EU are hiding behind the mechanism for suspension of visa-free regime, not to introduce visa liberalization.
See also: the summit EU – Ukraine Schulz voiced the reasons for the delay in bezveza, and Tusk spoke in Ukrainian
Recall that in the presidential administration said that the provision of bezveza does not depend on Ukraine. This was announced by Deputy head of presidential Administration Konstantin Eliseev during a briefing in Kiev. He also noted that the EU has not expressed to Ukraine no comments. On the contrary, now Ukraine raised the question of implementation of commitments. In addition, Eliseev said that Ukraine in Brussels received clear assurances that the next tranche in the amount of 600 million euros.
21-24 November in Brussels hosted the summit Ukraine-EU, which Ukrainian politicians had high hopes in getting the particular date of the decision on visa-free regime for Ukrainians. Ukraine has fulfilled all the requirements of the action Plan on visa liberalization – at least it showed the European Commission and EU ambassadors. However, the procedure began to falter before the last two bodies that must agree on the decision. It is the European Parliament and the EU Council.
.
Visa-free regime for Ukrainians: myths and reality
Classified material
December 5, 10:23
Add to favourites
The dream of Ukrainians to travel to Paris to Zhytomyr without a visa, that's true. So, anyway, say the Ukrainian government. But experts and diplomats in this optimism I believe is not very much. Why Europe is not ready to let the Ukrainians and what can we expect from the "star" neighbors? And when we actually get the promised bezviz?
Comments
comments